High-quality, spacious uPVC conservatories installed in Cheltenham & Gloucester
Create more space and light in your home by extending your home with a conservatory for your Cheltenham or Gloucester home. At Albany, we offer high-quality uPVC conservatories in a range of styles, from traditional to modern, tailored to your desired look. Get in touch with us today, and one of our experts can talk you through the best options for your home.
Conservatory features
Quality steel-reinforced uPVC frame
Clean lines & slim sightlines
Optional dual colouring
Solar glass, polycarbonate or solid roof
Crestings, finials and roof tiles available
Excellent quality workmanship
A range of conservatory styles to choose from
Victorian conservatory
This most popular style of conservatory suits all homes. It features a steeply pitched roof, ornate ridge details and bayfront. Like other traditional styles, it has a classic appearance.
Edwardian conservatory
This design of conservatory incorporates an elegant rectangular shape that lets in lots of light and maximises floor space. They add a touch of grandeur to any home.
Georgian conservatory
This is similar to the Edwardian conservatory but has more line details, giving a more ornate appearance. It is flat-fronted and can be installed in a square or rectangular shape. It is particularly handy for furniture and plants, with lots of space to play with.
Gable conservatory
An alternative Georgian design, this conservatory shape has an upright front, like the end of a house (rather than the roof sloping back to the centre). They have stylish front elevations and give a touch of tradition.
Double hipped conservatory
This means that the pitched roof appears on both sides of the conservatory, rather than having a flat face that connects to the property wall. Suitable for all properties, including bungalows.
Lean-to conservatory
This conservatory is perfect for more modest-sized homes, those that have restricted space under the eaves or are an awkward shape. One end slopes away from the property wall, making the most of available space. It features a more simple design, making it a popular contemporary choice.
Loggia conservatory
This state-of-the-art design is more like an orangery – it features less glass than a traditional conservatory and therefore feels more like an extension. It's perfect if you want a more private, cosier living space.
Custom conservatory design
We can install combination conservatory designs to fit unusual spaces or to provide you with a completely personal style.
Take a look at our gallery, for more conservatory inspiration.
Conservatory styles and options for Cheltenham and Gloucester
Conservatory colours
Traditional white and timber effect conservatories are popular, but we also offer a wide range of conservatory colours. Durable and colourfast, our coloured conservatory frames are also available in maintenance-free Cream, Grey and Chartwell Green.
Woodgrain colours include Mahogany, Rosewood and Irish Oak
Bespoke RAL colours available
Different colours for interior and exterior
Conservatory glass and glazing options
Our conservatories are double glazed as standard using energy-saving solar glass, a superior glass that helps to maintain the temperature inside your home and eliminate draughts, cold spots, and condensation.
Solar control glass
Easy clean glass
Toughened or laminated glass
Decorative glass units including leaded, frosted and stained glass
Conservatory roofs
Albany offers an unrivalled range of conservatory roofs, from economical polycarbonate roofs to bespoke glazed roof lanterns. We even offer solid roofs and custom roofs for any shape or size conservatory.
Polycarbonate roofs
Solar glass conservatory roofs
Tiled roofs
Lantern roofs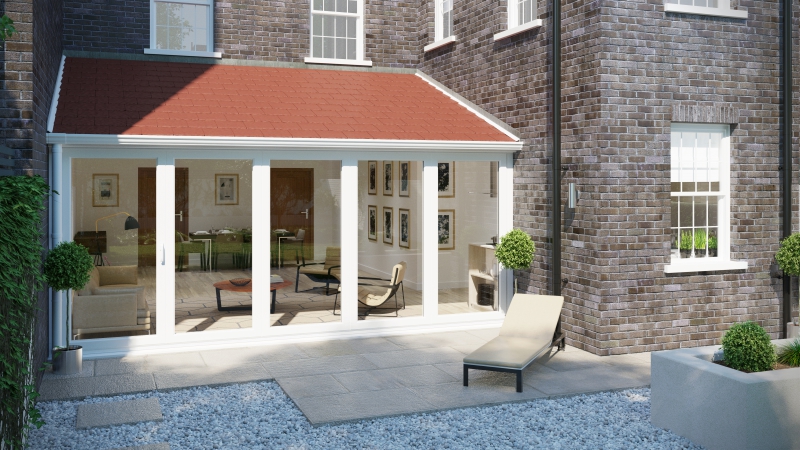 Want to know more? We've compiled a guide with everything you need to know about conservatories.
Secure conservatories
No matter what design you choose for your conservatory, you can be sure that it meets the highest security standards. With robust aluminium or steel-reinforced uPVC frames and internally glazed windows, doors and roof, our conservatories are impenetrable from the outside keeping your Cheltenham or Gloucester home secure.
Windows and doors with multi-point locking systems
Optional toughened and laminated glass panes
High-quality building
Energy-efficient conservatories
With high-performance glazing and solar glass as standard, our conservatories achieve high standards of energy efficiency.
Solar glass roof for comfortable interior temperature
Argon gas-filled units for reduced heat transfer
Weathertight installation
Professional installers of everything from a modern conservatory to more unique tailor-made conservatories
With an in-house team of qualified designers, glaziers, bricklayers and stonemasons, local to Cheltenham and Gloucester we offer a professional conservatory installation service. Our modern conservatory designs can be customised by frame colour, window, and door styles (including bi-folding doors), glazing, and roof options.
We use either polycarbonate or advanced solar control glass to keep your conservatory comfortable in extremes of external temperatures. This means that your conservatory can be used all year round, rather than ignored when outside it is too hot or cold.
Our dedicated team can install any of the styles mentioned above and help you to add a touch of elegance to your home! Equally, a conservatory from Albany Windows is the ideal way to create a brand new living space that can be used all year round, improve security, and help to retain heat in your home.
We are committed to putting our customers first and will continue to put all our effort into keeping our customers happy. With an average score of 4.9* out of 5, read some of our reviews here.
Conservatory finance options
We have a variety of conservatory finance options, including 12 or 24 months interest-free credit, as well as 10-year low rate flexible finance.
If you're looking for a dedicated conservatory company in Cheltenham or wider Gloucestershire, get in touch with us today for no-obligation design advice and a free quote.
Conservatory FAQs
Is it worth adding a conservatory?
Yes, a conservatory can add value to a home just like any other extension. A conservatory also adds character to a home. It provides a fantastic location to enjoy the garden no matter the weather and adds a new focal point to a home to entertain and relax.
What is the legal definition of a conservatory?
To be classed as a conservatory a building should have no less than 50% of its wall area as glass and no less than 75% of the roof area should be made of translucent material.
For planning permission, a conservatory is treated in the same way as any other extension.
Does a conservatory need foundations?
Yes, a conservatory needs to have foundations. The foundations of a conservatory give the structure support and spread the weight. The conservatory foundation also needs to be damp-proofed and insulated to meet planning regulation standards.
How big can a conservatory be without planning permission?
You can build a conservatory as large as half of your garden and no more than 4 – 3 meters high with the top of the roof no higher than the eaves of a home.
If you want to build a bigger conservatory then you will need to apply for planning permission.
For a full breakdown read the conservatory planning permission guide.