Stylish and attractive uPVC windows in Gloucestershire
It's no surprise that uPVC windows are the most popular type in Britain. Providing security, insulation and style at an affordable price makes them perfect for every home.
Suitable for both modern and traditional homes, our uPVC windows will keep your home warm as well as looking good. Available in a range of styles including casement, tilt & turn, sash and custom shaped, they're a worthwhile investment for your home.
Durable and low maintenance, they can be left alone to protect your home for years to come. uPVC has come on in recent years and provides an attractive window that can be customised in so many different ways.
uPVC window frames are made up of multiple chambers, which make it difficult for heat to pass through from inside the home to the outside. Not only is uPVC energy efficient, but it is also able to resist warping and discolouration incredibly well so your windows will look as good as the day they were fitted for years to come.
Find out why we are one of the local favourite installers here
uPVC Window Features
Only high-quality uPVC profiles are used for our windows
Versatile and easily customised with a range of colours and designs
Multi-chambered to create an effective barrier to prevent heat from escaping
A+ energy rating available for superior thermal performance
Secure and effective locking mechanisms
Weather-resistant for every season
Easy to look after
uPVC windows personalised for you
uPVC is so versatile and can be made to suit your home exactly. A flush sash is available to give the appearance of traditional timber windows; this works especially well in older homes. Choose from a wide range of colours, designs, and glass patterns as well as Georgian or leaded bars. Make your new uPVC windows your own.
Secure uPVC windows
Our uPVC windows come with effective locks that will ensure your home is protected against intrusion. Internally beaded, our windows are resistant to forced entry and won't let you down, so you can rest assured that they have been rigorously tested to provide the best defence for your family.
Low maintenance uPVC windows
uPVC's most desirable feature is its low maintenance qualities. It will not fade, crack or flake and whatever colour you choose won't need repainting. Our uPVC windows will stay looking as good as the day they were installed for years to come. A simple clean is all that's needed to keep them in tiptop condition.
Energy-efficient uPVC windows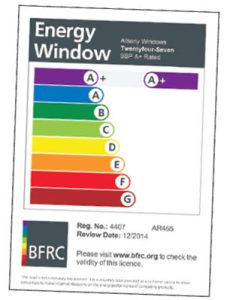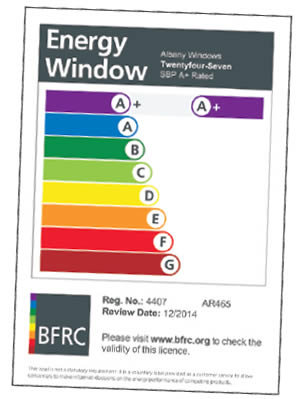 Double glazed uPVC windows will make a noticeable difference to the comfort of your home, reducing heat loss, and keeping it warmer and more insulated.
Replacement windows must achieve an energy rating of C or above; our windows offer up to an A+ energy rating.
Can achieve A+ Window Energy Ratings
Exceptionally low U-values
Energy saving double glazing as standard
Argon filled sealed units
Triple glazing available
What is argon gas and why do we use it?
Argon gas shares many properties with oxygen; however, it is far more viscous. The viscosity of a gas can be thought of as a measure of its resistance to flow, for example, heat flows far less easily through argon than it does oxygen.
Argon gas slows the transfer of heat through windows and doors. Since it is so viscous, it acts as a fantastic thermal barrier. The space between glass panels in our double and triple glazing is injected with argon which helps improve energy efficiency. Since molecular movement is so restricted within the gas, far less heat is transferred and far less heat loss occurs.
uPVC Window styles
Glazing and glass options for uPVC windows
You can have almost any glass design for your windows, including leaded or Georgian bars and stained glass. Our uPVC windows come with double glazing as standard but you can choose triple glazing for enhanced thermal and sound insulation. All of our windows feature energy saving glass which absorbs energy from the sun whilst balancing internal heat. This keeps your home warmer for longer as well as lowering your energy bills, saving you money.
Wide range of window handles and locks available for uPVC windows
We offer a large variety of customisable hardware so you can create the windows of your dreams. With multipoint locking systems, traditional handles and sash horns available, it's easier than ever to create your perfect windows.
uPVC window colours
Our uPVC windows are available in a huge range of colours including Chartwell Green, Dark Red or heritage wood effects such as Irish Oak which resemble traditional timber windows. You can also choose the dual colour option to let the interior of your windows match your home's décor.
For more information, advice or a no-obligation quote for uPVC windows, contact us today!
Read our post on why uPVC windows in Cheltenham are so popular