Is your current choice of window dressing letting in too much sun or blocking it out completely? Are you fed up with continually having to dust your existing blinds? Integral blinds could be the solution to your dilemma. Read on to find out the benefits of upgrading to integral blinds.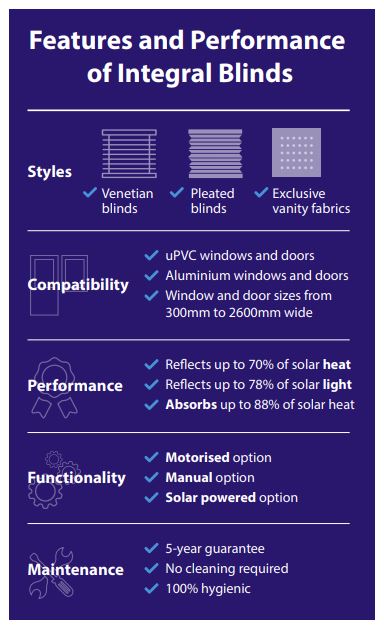 What are integral blinds?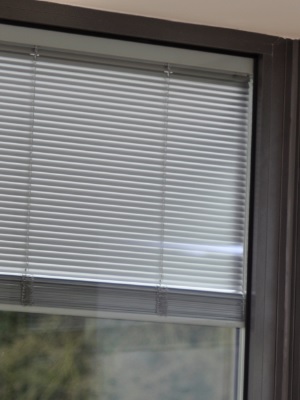 Integral blinds are cutting-edge Venetian or pleated style blinds that are safely sealed between two panes of glass. Despite being in between the panes of glass, the blinds can be opened and closed manually or by electronic operation.
Integral blinds are made to measure and can be fitted into most vertical window and door systems such as bi-folding doors, sliding patio doors,  windows and conservatories. This blind system is ideal for controlling light and shade in residential homes and office spaces or other commercial settings.
Easy maintenance
As integral blinds are completely sealed within a glass frame, you never have to worry about the slats getting dirty, meaning that you can say goodbye to those nasty dust bunnies forever.  Integral blinds are a perfect choice for bathrooms and kitchens too, as due to their sealed nature, they remain moisture-free, therefore preventing any chance of mould building up. Integral blinds offer you peace of mind, knowing they will stay in pristine condition for many enjoyable years to come.
Safety
Traditionally, blinds are typically available in roller, vertical, Venetian, roman or pleated format, and are positioned on the exterior of the window, and operated by a cord or chain mechanism.  Traditional cord or chain mechanisms are a potential risk hazard for babies, young children and pets. With integral blinds, safety is never an issue, as the blinds are operated by either an integral cord, magnetic slider system or remote control. Totally eliminating the risk of small children or pets becoming entangled.
Integral blinds are not affected by windy conditions either, meaning you will never have to worry about them flapping around in breezy conditions. You will also never have to worry about them being misshapen or damaged by boisterous children or animals.
Energy efficient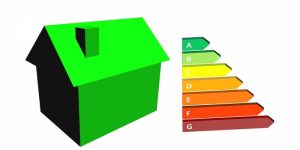 Integral blinds do not compromise on energy efficiency and come with an A rating. This means they effectively maintain the heat inside your home, keeping the warmth in and the cold out.
Correctly using your integral blinds will also help to maximise their efficiency. During the winter months, open your blinds fully if the sun is shining and make the most of the sun's free heat. However, when the sun starts to go down, close the blinds fully to keep the warmth inside your room.
Privacy at your fingertips
Arguably one of the great advantages of integral blinds is their ability to offer you complete control over your privacy.  Integral blinds allow you to effortlessly control how much of your home space is on show to the outside world. Open the blinds fully to enjoy unimpeded views of your outside space, have them fully closed to enjoy your space privately, or position them somewhere in between?  The choice is completely yours!
Integral blinds come with different types of operation. They can be operated manually by either a cord or magnetic slider, or by remote control. Whichever option you select; perfect fingertip control is assured.
Light and shade control
Another advantage of integral blinds is the ability to control exactly how much sun can flood into your home. Thanks to integral blinds innovative and exceedingly easy to use tilt action, the perfect level of light and warmth can be effortlessly accomplished. No more bright glare ruining your favourite TV programme!
Slim, sleek lines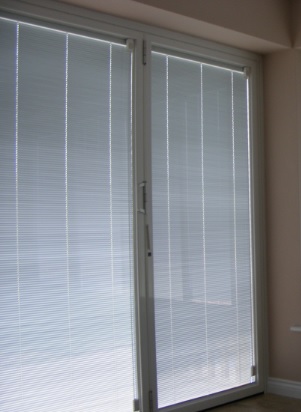 Integral blinds add an exceptionally contemporary and stylish touch to any property. When fully open, their beautifully slimline design can offer spectacular unobstructed views to any outside space.  Consider replacing your existing outside door for a bi-fold door with integrated blinds and see just how dramatic the impact can be!
Integral blinds provide both style and elegance and can really add that finishing touch to help make your home truly stand out.
Customisable
Integral blinds can also allow you to put your own personal stamp on your home. Blinds are available in a variety of colours from grey, silver, light blue, light green, and pale yellow to name but a few. If you really want to get your new blinds to make a statement, why not choose a contrasting frame to offset your blind colour?
Integral blinds for homes across Cheltenham & Gloucester
Experience the true quality and beauty of our integral blinds, by visiting our local showroom. Alternatively, you can contact us, get a quote or book an appointment to discuss the future of your home with your favourite local double-glazing experts.