As we approach the sizzling summer months, the humidity levels in our homes can become near unbearable. So, we thought it the ideal time to share our top 5 tips for cooling down your South West home this year.
1. Solid conservatory roof
If you have a 1980's, south-facing conservatory in your garden, the chances are it'll be much too hot to enjoy in the summer months. As frustrating as this is, there's a fool-proof and cost-effective way to prevent this age-old conservatory problem that you probably haven't heard of. Solid conservatory roofs are the perfect answer to enjoy your conservatory space 365 days a year, whatever the weather. By insulating your conservatories structure, whether it's a new build or retrofit, your new solid roof will proactively reflect scorching heat rays transforming it into an intelligent breathable structure. Using roof tiles that are 100% recycled, they also have a long-life expectancy of 60 years.
2. Sash window hack
Do you have double hung windows AKA sash windows? If so, on the downwind side of you home simply open the top section of all the sash windows and on the upwind side of the house open the bottom section of the sash windows. By doing this, the low pressure will suck the air through your home creating a cooling effect throughout.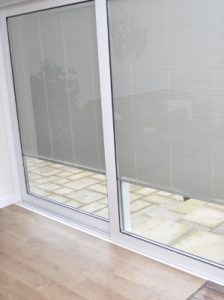 3. Integrate blinds or shutters
Did you know that up to 30% of unwanted heat comes from your windows? Our easy controllable integrated blinds do exactly what they say on tin. Effectively repelling heat on hot days and retaining heat on cold days, these user-friendly blinds are easily controlled within the frame. Not only does this make them very low maintenance, they save money by eliminating the need to purchase the blinds separately and externally. Window shutters work in the same way, whilst adding a twist of character, but tend to be more of an expensive option.
4. Fan hack
Instead of forking out for an expensive air conditioning system, use this simple fan hack instead: fill a bowl with ice, or freeze a bottle of water, and then place it at an angle in front of a large fan – a safe distance away from any electrical sources of course. The air will whip off the ice and create a chilled, comfortable atmosphere for all to enjoy.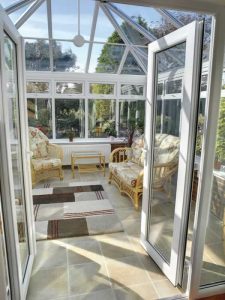 5. CLOSE THAT DOOR!
Prevent precious cool air from accessing unused rooms during the hottest part of the day, simply by closing the doors. Open the doors at night, to let the air flow naturally through your home. Simple but effective!
Do you live in Cheltenham or Gloucester and want to improve your home this year? Give one of the Albany Windows team a call on 01242 511 384 or send us an online message and we'll be happy to help.