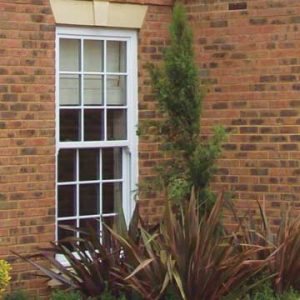 Right across Cheltenham, sash windows are a charming memento of an elegant era gone by. As the 'cultural capital of the Cotswolds,' there are plenty of late Georgian architectural examples to gaze at, so next time you're walking around Cheltenham why not see how many sash windows you can spot? Whether you want to upgrade your tired timber sash windows or replicate pleasing period window features, are you fully aware how uPVC sash windows work? Don't worry if not, we'll explain:
How do sash windows work?
Evolving from the simpler horizontal sliding sash window, vertical sash windows are constructed with two moveable window panels that slide up and down simultaneously; one in front and one behind. Able to open vertically from the top, bottom or both ways, it all depends on the style you've chosen.
The seamless vertical action of this timeless window design was originally counterbalanced by lead weights, attached to waxed cotton cords on either side of the window. These days, high-quality uPVC sash window equivalents utilise a spring balance system which has a similar counterbalancing principle. This method cleverly utilises a PVC tube that has two springs inside, allowing for effective counterbalancing. With Albany Windows, you have a choice of either style, depending on your home and individual taste.
Today's modern uPVC sliding sash windows have a proactive tilt-in facility, for easy cleaning. Optional Georgian bars and sash horns are also available for the ultimate traditional sash window aesthetic.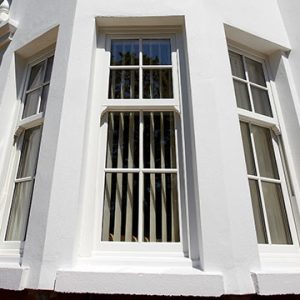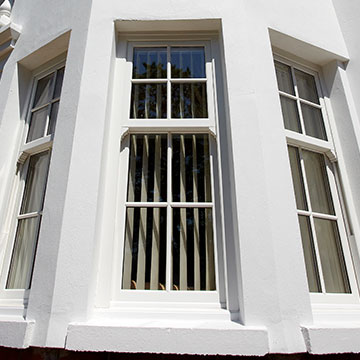 Sash windows Cheltenham
For almost 2 decades, Albany Windows have been supplying stunning sash windows to the good folk of Cheltenham and Gloucester. We're sure you'll agree, sash windows complement the typical Cheltenham property style perfectly – with their plain but elegant late Georgian inspired exterior, boasting multi-paned sash windows, neatly bordered by iconic iron railings. So, if you're looking for clean lines entwined with simple elegance, call the Albany Windows team on 01242 511 384 or enquire here for further information on how uPVC sash windows can enhance your home and your lifestyle.