What is condensation?
Condensation is a natural climatic condition. Water vapour is continuously present in the air but is increased by normal household activities such as cooking and washing. Condensation levels can even be increased by the essential act of breathing.
The importance of home ventilation
Older properties, usually those built before the 1950s, often had their own natural form of ventilation. This was often through the use of open flues for coal or wood fires, air bricks, and even gaps around poorly installed windows and doors.
As technology progressed, the housing sector experienced a drive to create more energy efficient homes. This was often achieved by sealing our homes to help keep warm air inside and lower our energy usage. A side effect of this, however, was that more trapped water vapour was present in our homes leading to an increase in condensation.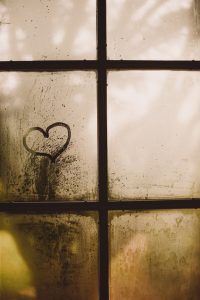 Condensation on windows
Condensation can form on windows when excess moisture in the air meets a cold surface. When water vapour reaches a cold surface, the water molecules quickly join together to form water droplets. This is known as the 'dew point'.
Condensation on windows can form in three different ways. The effect and how the problem can be treated varies depending on the location of the condensation.
Condensation on interior windowpane
This is the most common form of condensation. It is particularly common on older, less energy efficient double glazing and is even more likely on single glazed windows. If the interior windowpane becomes sufficiently cold, interior water vapour will reach dew point and form condensation on the inside of the windowpane.
This is a naturally occurring phenomenon and even with high performing double or triple glazing, cannot be completely eliminated. Fitting modern glazing combined with effective ventilation such as trickle vents or mechanical ventilation can significantly reduce the formation of condensation to create a healthier interior living environment.
Condensation on exterior windowpane
If you experience condensation on the outside of your exterior windowpane, this means that your windows are working exactly as they should be. Early in the morning, particularly in summer, condensation will often form on the exterior windowpane. This is because the air outside is humid and becoming warmer while the glass surface is still cold, allowing condensation to form.
As the sun rises and warms the glass, any condensation will quickly disperse, and the window will clear. This type of condensation is not a problem and therefore does not require any action.
Condensation in between the glass panes
When condensation builds up in between the panes of a double or triple glazed window, it means that the window seals have failed on the glazed unit. Modern double glazing units actually contain a small amount of moisture between the glass panels. They also contain a crystalline desiccant that draws moisture out of the air gap to ensure that the internal space between the panes is kept dry.
If the seal fails on a glazed unit, more moisture is drawn into the gap between the windowpanes. Eventually, the desiccant will become saturated and will no longer be able to hold any more moisture. At this point, condensation will begin to form inside the unit.
When a window's seals have failed, the window will no longer provide the required levels of insulation. This will lead to poor thermal performance, heat loss, and increased need to heat your home.
Condensation inside the sealed unit can also cause problems with mould and associated rotting of window frames. If left untreated it can also create a health risk. You may be able to hire a specialist to replace the windowpane and re-seal the unit. If this is not possible, then the glazed unit will need to be replaced.
How to reduce condensation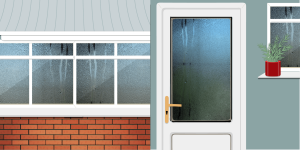 The best way to reduce condensation on your windows is through improved ventilation. Opening your windows and doors as often as possible is a good place to start. You could also consider installing a skylight in a conservatory roof or trickle vents in your window frame. Mechanical ventilation can also be effective as can the use of de-humidifiers.
If you live in an older property and you have experienced persistent problems with condensation, it may be time to consider a window replacement project. Replacing your old poorly performing windows with modern energy efficient alternatives is an excellent way to prevent condensation. It will also improve your home's thermal performance, creating a warmer more comfortable living environment and helping you to save money on reduced heating bills.
Expert advice and assistance with Albany Windows
If you're experiencing problems with condensation on your windows, the team at Albany Windows can help. An experienced window specialist will attend your home and assess the condition of your windows. For more information or to arrange a visit to discuss window replacement call 01242 511 384 or contact us online.