Have you heard of Slimline double glazing? Whether the answer is yes or no; do you know its potential home improvement benefits?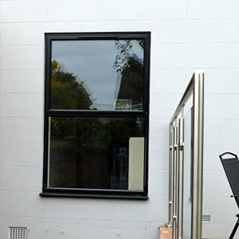 The future of fenestration
Slimline is the latest in double glazing design. Using the latest advancements in technology, Slimline windows are leading the field in design and innovation.
Traditional double glazed windows are designed to create a space between the two panes of glass to optimise your home's insulation. Slimline double glazing replicates this design template but because the frames are thinner, the space between the glass is considerably reduced. During the manufacturing process a special method is used to suck out the air in between the panes, thus a sealed cavity is formed. Once installed, this sealed unit creates the best in modern home insulation.
The benefits of Slimline double glazing
In this modern age we all want to optimise our home's performance. Slimline double glazed windows can help to unlock your home's potential.
Increased natural light
Better energy efficiency
Perfect for period properties
No double reflection
Slimline double glazed windows use much thinner frames than standard uPVC windows. Reduced sight lines allow more natural light to flood your home, creating a bright and airy feel.
In appearance Slimline frames are closer to traditional timber windows. This makes them the perfect choice when upgrading your period property. Slimline windows will ensure you retain the charm and style of your heritage home.
Slimline windows can achieve a Window Energy Rating of A+. This means you will soon reap the rewards of reduced energy bills and a warmer home.
Slimline windows are more aesthetically pleasing. The smaller cavity in between the two panes eliminates the double reflection sometimes produced by standard double glazing.
The best in modern glazing with Albany Windows
At Albany Windows we are proud to be industry leaders. We use only the best products fitted by the most experienced and qualified installers. If you'd like to find out more about Slimline double glazing call 01242 511 384 or send us a message online.