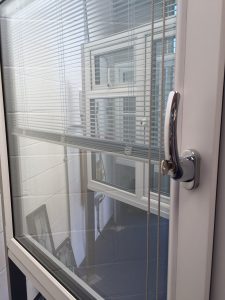 Blinds have been a staple in many UK households for a number of years, but it's only recently that they've begun to truly hit their stride, now providing the ultimate ease of use for the user with integral blinds.
Although traditional blinds still work perfectly well for homes wanting to enjoy a little privacy or prevent solar glare, there are plenty of innovative ways that integral blinds from Albany can improve the lifestyle:
Hermetically sealed for low maintenance and cleanliness
Being hermetically sealed between two panes of glazing, integral blinds from Albany offer low maintenance and a no hassle alternative to traditional blind systems, that would otherwise require heavy cleaning and dusting as the dirt begins to accumulate.
Whereas traditional blinds are exposed to the elements, there's no need to worry about cleaning your integral blinds from the bacteria they would usually harbour. The system's internal slats will forever stay clean throughout their entire lifespan, leaving yourself time to concentrate on other aspects of house maintenance or simply relaxing.
No more tangles, no more knots
Specifically designed to improve the day to day life of the average homeowners to make it just that little bit easier, integral blinds are not prone to tangling breaking or knotting thanks to the fact that they are operated externally from the two sandwiched panes.
Whereas traditional blinds can sometimes become mixed within their respective pull system, requiring you to spend minutes untangling, integral blinds always operate smoothly for optimal ease of use and effectiveness.
Control your home's heat and light
All of our integral blind systems feature a tilted control operation to allow homeowners to achieve their ideal heat and light levels at just the flick of a hand gesture. If you find yourself constantly battling the sunlight as you transition from room to room, consider incorporating integral blinds within your replacement windows to suffer no longer.
High-quality integral blinds from Albany windows
Albany windows have been providing the people of Gloucestershire with high-quality windows for well over 15 years. For more information on how incorporating integral blinds can help improve your home's light level and privacy, call us on 01242 511384 or get in touch with us online today!