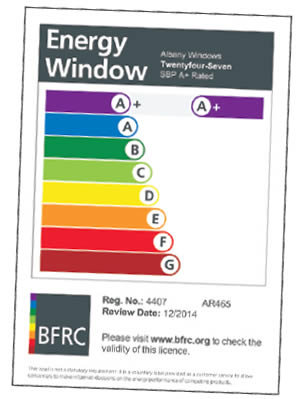 Improving your home's energy efficiency is a major priority for many UK homeowners. With heating bills at an all time high, people are looking for the best ways to enhance their home's heat retention capacity to save money and create a warmer living area. One of the best ways to do this is with energy efficient windows.
Improving energy efficiency with replacement windows
According to UK government statistics, 18% of a property's heat is lost through its windows. This is a huge proportion of the overall heat loss from a building. It is also something that can easily be reduced. With high performance double or triple glazing, you can significantly reduce heat loss through your windows and improve your home's heat retention capacity.
Replacement windows are a great way of improving your home's thermal performance. Modern glazing fitted with low-E glass is designed to regulate the sun's rays. It does this by reducing the level of UV rays penetrating the building interior while at the same time helping to trap any warm air generated inside the home. This means that you won't need to use your heating as often, helping you to make noticeable savings on your energy bills.
Window types to boost your home's thermal performance
At Albany Windows, we install a variety of window types. All our window styles are designed to meet current requirements for thermal performance and will have a dramatic impact on your home's thermal performance. We offer all our customers both uPVC and aluminium windows which can be fitted with double, triple, or secondary glazing.
In terms of glass options, we use some of the latest technology to ensure our customers have the best choice when it comes to replacement glazing. Some of our most high performing glass options include:
Planitherm Glass – excellent solar control for better heat retention
Acoustic Glass – laminated glazing to reduce sound transmission
Solar Control Glass – regulates solar heat gain for a more comfortable home interior
Anti-condensation Glass – features a highly insulating coating to reduce condensation
Have a browse of our glass options page for more detailed information about our range of glazing choices.
Replacing your windows is a highly effective way to improve your home's energy efficiency. If you'd like to find out more about energy efficient glazing from Albany Windows, get in touch today. For more information about any of our products or services call 0800 111 4621 or contact us online.