With so many double glazing companies offering an ever-increasing variety of products, it's often difficult to know who to choose when it comes to a home improvement project. Do you go for one of the big national companies (reliable but expensive) or the local Mr Fixit (possibly reliable and cheap, but little specialist knowledge)?  
In these days of economic uncertainty and tight budgets, it's vital that you find an installer for your home improvement project who will give you exactly what you want, at the right price and with a high degree of customer service. Because having new doors and windows fitted are not small jobs that can be done by your local repair man in a couple of hours, a lot is at stake. You want a quality product that will last for many years and not let you down, whilst expecting your installer to turn up on time, be polite and do the work they have been asked to do with little or no hassle.  
The Albany Windows team is made up of friendly professionals. We don't subcontract any work so we can always guarantee quality. Fully experienced in all areas of home improvements and equipped to give any advice you need. As a family-run business, we ensure each project adheres to our high standards. We can confidently take on any sized project and have access to large manufacturers who provide high quality products.   
In short, when it comes to installation, we know what we're talking about. So here are our top tips for choosing a reliable installer for your project: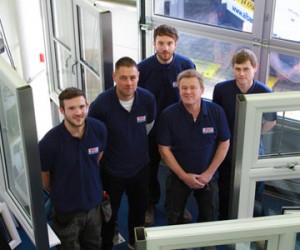 It's all about reputation
These days, companies stand or fall by their reputation. Social media has ensured that the world will hear about your activities, for better or worse, and therefore customer service has never been so imported. A reputable installer will be on at least one 'review-a-trader' site (Albany Windows belongs to Which? Trusted Trader) and may also belong to a professional organization such as FENSA and Trustmark – both of whom count Albany as members. These accreditations show you that your chosen installer has impressed certain regulatory groups enough to receive their official stamp of approval.  
Don't take our word for it….
Ask the installer's customers! A reputable company will be happy to put you in touch with bona fide customers who can vouch for quality work. We regularly update reviews on our site, which can be checked against the 'trusted trader' sites they originated from. If you're reading reviews like 'Our experience, from our initial visit and chat at Albany's showroom to placing an order and then having the work completed, was positive and hassle free', or 'I would like to recommend the excellent and professional service given to me by Albany Windows. How refreshing to meet such high standards in this day', you know you're in good hands.  
Local knowledge
Having a company on your doorstep that knows and understands the area is worth its weight in gold. Home improvement installers like Albany have worked on all kinds of properties around Cheltenham and Gloucestershire for more than 20 years, including period homes, luxury apartments, townhouses, new-builds and quirky country cottages. Installers like us know what works best with a variety of local styles and materials, so we can advise you accordingly.  
A physical showroom  
Even in this online world, being able to see in person what you think would suit your home improvement plans is unbeatable. There's just no substitute for getting a real feel for what you might like. Our Cheltenham showroom gives you the chance to see how our products look, feel and work up close. This means that you can be completely assured about the appearance, configuration and quality of your window or door before you buy it. Plus, you also get to….  
Meet the staff!
Whether you call into your installer's showroom or contact them by phone, you know you're speaking to staff from the local area who can answer your queries and share their local knowledge with you. This way, you get a personal service from start to finish, knowing that someone is fully aware of your project and can update you on its progress from start to finish. Also, at Albany we only employ the best window installers, which places the finished quality of our work at an incredibly high standard. Unlike many other home improvement companies, we directly employ all of our staff, so that we can always make sure that every job completed is quality assured. 
We know there is a lot to consider when choosing an installer for your home improvement project, and at Albany we try to make this process as smooth and painless as possible. To contact us, drop us a line or give us a call on 0800 111 4621.