High performing uPVC and aluminium framed orangeries installed in Cheltenham & Gloucester
Orangeries are fast becoming a popular alternative to a conservatory. At Albany, we help homeowners across Gloucestershire create light and spacious sunrooms, loggia conservatories, or glazed extensions to any design and performance specifications. When you get in touch, our experts will be able to talk you through the best options to compliment your home.
What is an organgery?
The beauty of orangeries is that they combine the benefits of an extension and a conservatory – they let in more light during the day but can be cosy spaces at night, thanks to their ability to keep the space cool or warm.
Orangery features
More privacy than a conservatory
High-performance uPVC or aluminium frames
Exact colour match windows and doors
19 uPVC colours; hundreds of RAL colours
Solar glass lantern roof
In-house builders, installers, plasterers and decorators
Orangery styles
Orangery
The traditional orangery is similar to an Edwardian conservatory in style, with brick walls or columns and a glass lantern roof. Orangeries let in just the right amount of light, whilst providing shade and privacy.
Loggia
Loggia rooms are similar to an orangery in that they feature uPVC panels and that mimic the brick design of the orangery. Loggias feature less glass than a traditional conservatory – perfect for if you want a more private, cosier living space.
Edwardian conservatory
Although technically a conservatory, the Edwardian conservatory is the most similar design to an orangery, with an elegant rectangular shape that adds a touch of grandeur to any home.
All our orangery styles are available with uPVC or aluminium frames. Take a look at our gallery, for more inspiration.
Creative control over your orangery
Your orangery can be designed and built to suit your style ideals and your home. Choose from a range of modern designs, or add period features for a more traditional look.
You can customise your orangery by frame colour, glazing options, and other design features. You can also include as much or little glass as you like – incorporate wallpaper, lighting, and pictures on any of the non-glazed areas (just as you would with any normal wall). This helps to make the orangery feel more like an extension of your personal living space, rather than an outdoor greenhouse.
Orangery styles and options
Orangery colours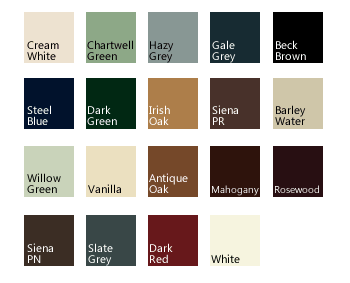 Our uPVC orangeries are available in a range of long-lasting colours, including Chartwell Green, Cream and Grey, as well as classic white and woodgrain colours. They are also available with a different colour for the inside and outside of the frames! Aluminium frames are also available in any RAL colour – with hundreds of options for choose from.
Orangery glass and glazing
Orangeries typically incorporate large, plain glass windows and doors. We offer high-performance double glazing manufactured using energy-saving glass. Other glass options are available, including:
Easy clean glass
Toughened or laminated glass
Decorative glass units including leaded, frosted and stained glass
Glass orangery roofs
Roof lanterns are the defining feature of an orangery roof. A lantern roof is a pitched glass roof set into a flat roof, which lets in the maximum amount of light without compromising on privacy.
Robust roof frame with aluminium or uPVC frames
Slim frames for maximum glass area
Cleaner for longer with easy clean glass
Secure orangeries
Our orangeries can meet high-security standards, with secure windows and doors and robust roof frames and glazing as standard.
Multi-point locking systems on windows and doors
Toughened and laminated glass options
Internally glazed panes
Energy-efficient orangeries
With an orangery, you get a living space that can be used all year round, whatever the weather. The space can be used for entertaining, relaxing, enjoying your outside area, or all of these! With brick piers and flat roofs, orangeries can offer better energy efficiency than a standard conservatory.
Solar energy saving glass
Argon gas filled units for reduced heat transfer
Fully sealed and weatherproof
Professional builders & installers
At Albany, all our qualified designers, builders, installers and decorators are employed by us and we never subcontract work, so you can be sure of a professional orangery installation.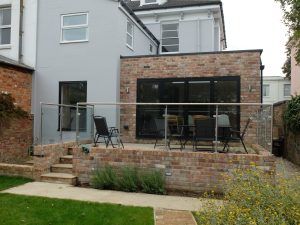 Our orangery installations feature energy efficient glazing and the most up-to-date designs and materials. This gives them superb quality, whichever style and colour you choose. It is no surprise that orangeries are fast becoming best selling extension options. Albany Windows can help you visualise and install your home improvement project with our personable and efficient service, wherever you live in the Gloucestershire region. Find out how orangeries are the future of home improvements.
Orangery finance options
We have a variety of orangery finance options, including 12 or 24 months interest-free credit, as well as 10-year low rate flexible finance.
With over 250 reviews, we have an average score of 4.9 out of 5* which demonstrates our commitment to putting our customers first. We are extremely proud of this achievement and continue to put all our effort into keeping our customers happy. Read some of our reviews here.
What is the difference between a conservatory and an orangery?
The difference between a conservatory and an orangery that an orangery has a flat roof with a glass lantern, large windows and is made from brick. A conservatory is predominantly made of glass and has a glass roof.
An orangery is more of a traditional extension of the home and is often accompanied by internal doors that are added to the rear of the existing building. Whereas a conservatory is added to the back of the home and does not have any new entrances added to the existing building.
Often orangeries require planning permission and conservatories do not, depending on the individual project.
Do orangeries need foundations?
Yes, orangeries do need foundations. The foundation distributes the weight of the orangery evenly and provides support.
Laying the foundation of the orangery will be the first part of the construction process. Footings will be dug and then filled with concrete ready for the rest of the orangery to be built on top.
Do orangeries add value?
Yes, an orangery will add value to a home. Orangeries like extensions add value to a home because they add living space to the property. An orangery can add further value because it adds character to a home as well as a room that is full of light.
Can you use an orangery all year round?
Yes, orangeries can be used all year round. In the colder months, orangeries can be comfortable as they let lots of natural light in making the most of the reduced light. In summer orangeries can be kept cooler due to the large windows and it offers a relaxing place to sit and admire your garden in full bloom.