Aluminium and uPVC windows for Gloucester
Aluminium windows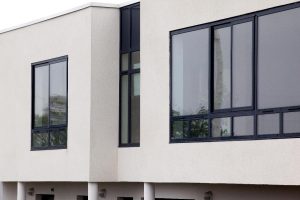 Our aluminium windows are able to provide fantastic levels of thermal insulation and security. They are ideal for both contemporary and traditional Gloucester homes, as they also offer great acoustic insulation and aesthetic designs.
Aluminium windows can also be a lot easier to maintain than some other styles of windows. This makes them ideal for those wanting an affordable and high-performing yet low maintenance window.
The minimum energy rating that a window must achieve is C. The windows that we offer can reach energy ratings of up to A+. Our casement windows, for example, are not only fully compliant with current regulations, but they can also save you a considerable amount per year in energy costs.
uPVC windows
UPVC windows are one of the most popular materials available, thanks in large part to their budget-friendly appeal. They are very easy to maintain, typically just requiring a wipe down with a damp cloth, and are durable as well. UPVC is also a fairly versatile material and can host a range of different styles. These include sash windows and tilt and turn windows.
The uPVC window frames themselves are made up of a multi-chambered profile. This design makes it difficult for heat to pass through from the inside of a property to the outside. Not only is uPVC good for thermal efficiency, but it also makes for some well-secured window frames. Our uPVC windows are designed with multi-point locking systems ensuring that Gloucester homeowners are kept safe at all times.