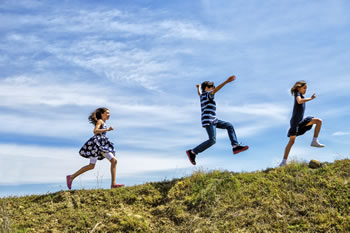 As one of Gloucestershire's best double glazing installers, Albany are proud to call the beautiful city of Cheltenham our home. With that in mind, here's our pick of the best 5 things to do in and around Cheltenham this summer!
1. Visit the Gloucestershire Warwickshire Railway at Cheltenham Racecourse
A steam and diesel heritage railway set in 12 miles of the gorgeous Cotswold countryside, the Gloucestershire Warwickshire Railway has a station at Cheltenham Racecourse making it the perfect summer destination if you're near Cheltenham at any point. With restaurants, cafes, heritage trails and play areas, the railway has something for everyone. On the 14th June the railway hosts its first Classic Vehicle day of the year, and on the 21st and 22nd June hosts its popular 'Day Out With Thomas the Tank Engine' event. Definitely one for the kids.
Address and Opening info: The GWR, Cheltenham Race Course Railway Station, Cheltenham Racecourse, Cheltenham, GL50 4SH, England. Open weekends.
2. Take a walk around the Montpellier District
The elegant Montpellier District is one of the best surviving examples of Georgian architecture and is a destination in its own right. Featuring one of the best collection of independent hotels, shops and cafes in the country, the Montpellier District is the perfect place to visit if you want to experience the opulence of Cheltenham first hand.
3. Watch a show at the Everyman Theatre
Built in 1891, the Everyman Theatre has been an integral part of Cheltenham's nightlife for over a century. Hosting a variety of musicals, plays and performances, the Everyman Theatre is a great destination for any summer night. The theatre also offers training sessions: perfect if you want to develop your acting ability!
Address and Opening info: Regent St, Cheltenham. 9:30am-6pm, Mon-Sat.
4. Learn about Cheltenham's musical heritage at the Holst Birthplace Museum
Believe it or not but Gustav Holst, composer of the celebrated 'Planets' suite, was born in Cheltenham in 1874. This museum is dedicated to the life of the prolific composer and houses a range of artefacts relating to his life and his work. The museum is also one of the only examples of a fully preserved Victorian/Edwardian family home, complete with surviving furniture. A perfect day out if it's raining!
Address and Opening info: 4 Clarence Road, Pittville, Cheltenham, GL52 2AY. 10am-5pm Tues to Sat, 1:30pm-5pm Sun. Closed Monday.
5. Pamper yourself at Chapel Spa
No summer in Cheltenham would be complete without a trip to the Spa! Voted the 'Best Spa in the South West 2012' by the Good Spa Guide, Chapel Spa is renowned for its exceptional customer service. With a range of treatments to choose from, including massages, manicures and pedicures, Chapel Spa is a great place to relax after a busy summer day!
Address and Opening info: 10 North Place, Cheltenham, GL50 4DW. 9am-8pm Mon-Fri. 10am-6pm, Sat-Sun.