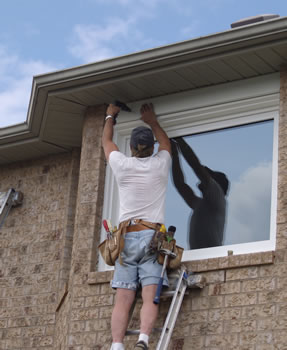 Ever wondered what else your window installer gets up to during the course of an average working day? Despite what you may think, window installers and fitters work incredibly hard and do more than just drink tea!
Here's a quick run down of a day in the life of a window installer.
6:00am: Wake up
Like most tradesmen, window installers have to wake up pretty earlier to make sure we're on time for the day's work and that our projects are completed on time and on schedule. This means waking up around the 6:00am mark to ensure that we're ready for the day's work.
8:00am: Arrive at the workshop
We'll usually arrive at the workshop around 8:00am. Here we'll drop off our coats and bags, get changed into our uniforms and grab a quick tea or coffee whilst we wait for all of the team to arrive.
At the workshop we'll find out what projects we'll be working on during the day. Sometimes, the day might consist of several small jobs like window repairs, or a window installation, or one large job like a conservatory installation that can take a few weeks to complete. The type of projects we work on normally varies from season to season, with some home improvements being more popular than others at certain times of the year. One thing's certain though: at Albany, our fitting teams are always incredibly busy!
After finding out what projects we'll be working on, we'll start to prepare the van for the installation. This means sourcing the various tools and equipment we need to complete the job, as well as thorough checking all the components of the product that we're installing. Once we've done this, filled out the relevant paperwork and loaded everything into the van we head off to the installation site!
8:30am: Head off to our first installation
By 8:30pm, we're already in the van on our way to the first installation of day. With a focus on providing exceptional customer service, Albany always aim to arrive on time. Traffic can be incredibly unpredictable, so it pays to leave earlier sometimes.
9:00am: Arrive at our first installation site of the day
When we arrive at the site of the installation, we'll greet the homeowner and talk through the work we'll be carrying out. We'll ask them if they have any questions about the work or any issues that they'd like us to be aware of and work with in mind. Once we're sure that the customer is happy to proceed, we'll prepare the installation site, unload our tools and equipment from the van and get to work!
1:00pm: Break time
1:00pm, or thereabouts, signals the start of a well deserved lunch break. Most of us normally bring our own food, but we might pop out for a quick sandwich or snack from a nearby shop if there's time.
1:30pm: Head to our second installation of the day or get back to work!
What we do after lunch normally depends on the type of project we're completing. If it's a long term installation like a conservatory build that we're working on, we'll get back to work. If it's a smaller project though, like a door or window installation, chances are that we'll have completed most of it during the morning. This leaves us with time in the afternoon to complete another installation. In this case, we'll clean up, pack down and head off to our next installation site of the day.
5:00pm: Head back to the office
When it reaches 5:00pm, its time for us to clock off. After making sure that everything at our installation site is left clean, tidy and safe, we pack all of our tools back into the van, say goodbye to the customer and brave the rush hour traffic back to our workshop. How long it takes us to arrive back at the workshop obviously depends on where we've been working: sometimes, if the job we've been completing is around Cheltenham, it only takes us a few minutes. If it's further afield into Gloucestershire, it can take us anywhere from half an hour to an hour.
Once we're back at base, we carefully unload our tools from the van and stow them back in the workshop, grab our coats and bags from inside and head off home. Another hard day's work successfully completed!
Window installers you can place your complete trust in
Based in Cheltenham, Albany are one of Gloucestershire's leading home improvement companies. Our window installers are directly employed by us we continue develop their skills and experience to ensure that they provide exceptional quality installations and service.