All bifold doors operate by running along tracks in the top and/or bottom of the frame. Some doors are described as top hung, while others are bottom hung. With top hung doors, the doors are hung from the top track, so all the weight is at the top, whilst bottom hung doors roll along the bottom track, so all of the weight is supported at the bottom. We have an entire blog post on the differences between top and bottom hung bifolds here.
Do all bifold doors need both top and bottom tracks?
The short answer to this question is no. It's a common misconception that a bottom track is required with bifold doors, but it is possible to install a bifold door without one. However, this is not something we recommend. Bottom hung doors have a lower centre of gravity which means they don't pull down as much weight from the top of the frame. This gives them a smoother operation and makes them more stable than top hung bifold doors.
All of our Origin bifold doors are bottom-rolling and use a specially engineered trolley system that makes opening the doors smooth, simple, and silent. Find out more about the design and engineering features of our bi-fold doors here.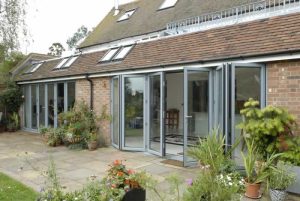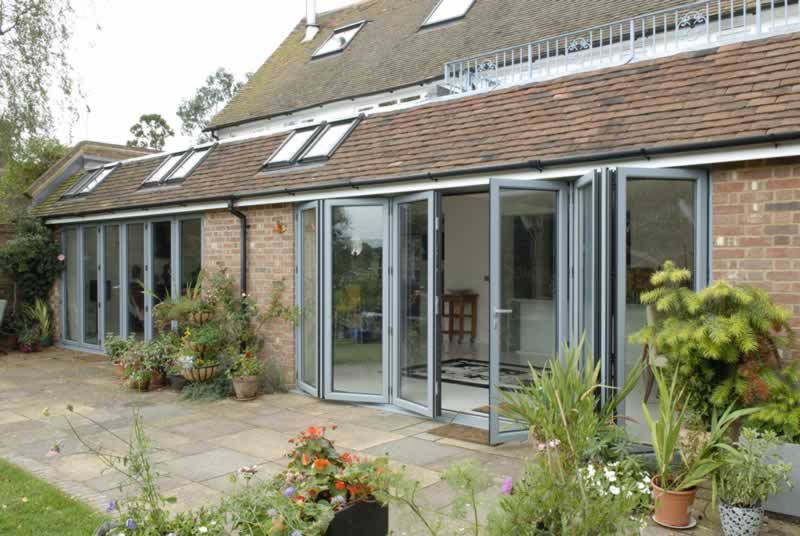 Can bifold doors be adjusted?
If you have bi-folding doors in your home, it's handy to know how to adjust them. It's important to understand exactly how your doors work and when and why they might require adjustment.
You may have noticed that your bi-folding doors are difficult to lock or close. In this case, it's probably because the doors have fallen out of alignment with the tracking and will require readjustment. You can adjust the hinges fixed at the threshold using an allen key. You can also adjust the hinges in the tracks if necessary. Experiment a little, sliding your doors until they sit flush and comfortable with one another. All doors will vary, so it's a case of trial and error, but it's certainly worth experimenting as this is usually a simple and non-intrusive fix.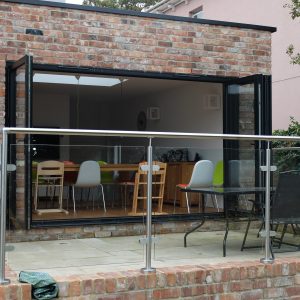 Find your ideal bifold door solution with Albany
Your comfort is our first priority, which is why we source our aluminium doors from world-leading brand Origin Frames. At Albany Windows, we install the whole Origin door range; front & back doors, bifold doors, sliding doors and French doors. Exclusively manufactured in the UK, with an Origin door you can be sure of stunning, contemporary aesthetics, slim sightlines, exceptional thermal efficiency, and cutting-edge insulation all rolled into one outstanding door package.
If you'd like to find the perfect bifold doors for your home, we have everything you need. With expert local knowledge from Cheltenham and Stroud to Gloucester and Cirencester, we know how to transform your home. Our high-quality products will ensure your home always looks its best. Get in touch today to find out what a new set of bifold doors could do for your space.