All bifold doors operate by running along tracks in the top and bottom of the frame. Some doors are top hung, while others are bottom hung, but what does this actually mean? And which is better?
With top hung doors, the doors are hung from the top track, so all the weight is at the top, whilst bottom hung doors roll along the bottom track, so all of the weight is supported at the bottom. Both systems have guides that run along the opposite track known as captive rollers.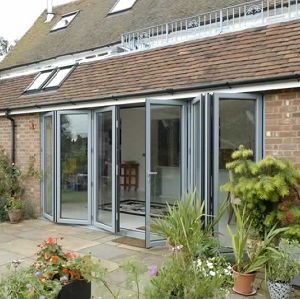 Operating top hung and bottom hung bifold doors
As all of the weight is supported at the top of the frame with top hung bifolds, the doors can become difficult to use without the right set of captive rollers. Due to this, top hung bifold doors are also more likely to drop. This happens when your doors drop out of their tracking system and become increasingly difficult to open and close. Not only is this frustrating, but it also poses a security threat. A door that isn't closing properly makes it easier for intruders to break and enter.
Bottom hung doors have a lower centre of gravity which means they don't pull down as much weight from the top of the frame. This gives them a smoother operation and makes them more stable than top hung bifold doors.
Installation of top and bottom hung bifold doors
In terms of installation, top hung bifolds require a strong lintel or beam overhead to bear the weight of the wall or roof above. This can make installing top hung bifolds tricker than bottom hung ones.
The lower balancing of their weight means that bottom hung bifolds are easier to install than top hung doors and the risk of your bifolds dropping is significantly decreased, if not, eliminated.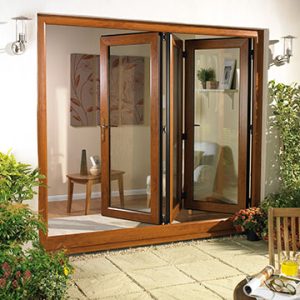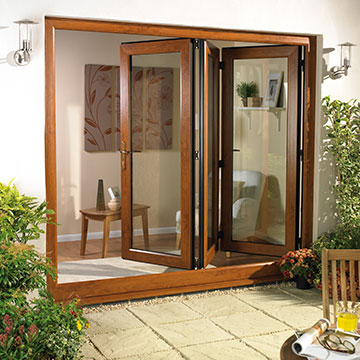 Aesthetic of top hung and bottom hung bifold doors
Both top hung and bottom hung bifolds are available in a wide range of colours and styles and both are engineered to compliment a variety of property styles, particularly contemporary home designs.
Our bifold doors are available with slim aluminium frames, offering great views out onto the garden and surrounds. As well as offering a stunning aesthetic, our bifolds are energy-efficient and secure, performing just as well as traditional patio doors and are ideal for kitchens, living rooms, conservatories, orangeries, and more.
Maintenance of top and bottom hung bifold doors
One thing to take particular care over with bottom hung bifold doors is keeping the bottom track well maintained. When the doors are open, dirt, leaves and debris can sometimes get stuck in the bottom track, affecting the doors' sliding motion. The most affective way of keeping the tracks free of debris is to take a vacuum cleaner nozzle and run it along the tracks to remove any debris that has collected inside.
Top-hung bifold doors do have a bottom guide track in which debris can accumulate, however, this is less likely to affect the sliding motion of the doors as top hung bifolds are less dependent on the bottom track. You should still regularly check and clean the bottom tracks though.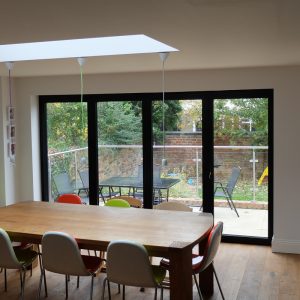 Bottom hung Origin aluminium bifold doors from Albany
Your comfort is our first priority, which is why we source our aluminium doors from world-leading brand Origin Frames. At Albany Windows, we install the whole Origin door range; front & back doors, bifold doors, sliding doors and French doors. Exclusively manufactured in the UK, with an Origin door you can be sure of stunning, contemporary aesthetics, slim sightlines, exceptional thermal efficiency and cutting-edge insulation all rolled into one outstanding door package.
All Origin bifold doors are bottom-rolling and use a specially engineered trolley system that makes opening the doors smooth, simple and silent. Find out more about the design and engineering features of our bi-fold doors here.
If you'd like to find the perfect bifold doors for your home, we have everything you need. With expert local knowledge from Cheltenham and Stroud to Gloucester and Cirencester, we know how to transform your home. Our high-quality products will ensure your home always looks its best. Get in touch today to find out what a new set of bifold doors could do for your space.