The question of security is one that comes up regularly for homeowners, especially when looking at home improvement projects. Everything must be scrutinised to ensure that homes remain safe and secure, from windows to doors to bigger extensions such as orangeries. Bifold doors, one of the most popular doors throughout Gloucestershire, are no different.



Did you know that October 2019 marks the 7th National Home Security Month? Taking place every October since 2013, it's the ideal time of year to take the initiative and review the security of your Gloucestershire home. Many of us think that we are immune to burglary, but the statistics tell a very different story:
Burglaries spike by a third after the clocks go back
It's estimated that burglaries happen every 40 seconds in the UK
28% of homeowners take no safety precautions in the home
Unlocked doors account for at least 5% of burglaries
More than one in six have fallen victim to burglary three times or more
So, as the popularity of bifold doors continues to rise, we thought it was the ideal time to address the following frequently asked questions:
Are bifold doors easy to break into?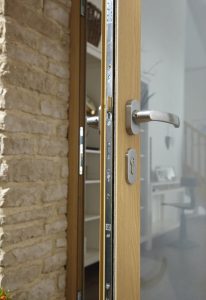 Some believe that the unique concertina opening style of the bifold door leaves it vulnerable to attack. However, this couldn't be further from the truth.
Modern bifold doors are one of the safest ways to secure rear entranceways in both residential and commercial settings, thanks to the general inclusion of multi-point locking systems.
Although all of our doors feature high-quality multi-point locks, many old front doors that are waiting to be replaced will only have one main locking system in place. Left exposed to lock drilling and excessive force, this means that bifold doors are typically stronger than your average front door.
Which bifold doors are the most secure?
UPVC has many advantages as a construction material but when it comes to strength, aluminium comes out on top. 67% lighter than steel, aluminium can support more glass alongside slimmer frames with ease; making it the ideal material to construct robust bifold doors from.
That's not to say that uPVC isn't durable, because it is. However, aluminium is renowned for its unbelievable strength and longevity, unable to rust, warp, flex or twist either. Aluminium is, therefore, one of the best options possible when it comes to choosing a secure front or back door.
What type of bifold door locks do you provide?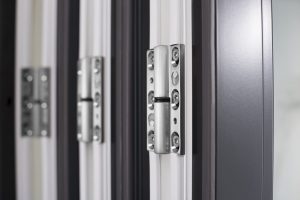 Aluminium bifold doors from the Origin collection exceed the latest security standards, benefitting from a unique 8-point locking system that includes a high-performance anti-snap, anti-pick, anti-drill and anti-bump cylinder lock.
Peace of mind is well and truly achieved with the addition of heavy-duty zinc hinges that are designed to resist the most forceful attacks imaginable.
Previous posts related to this topic:
How to choose the right bi-fold doors for your home
Is double glazing burglar-proof? & other common home safety questions answered
Which front door types are the safest?
This National Home Security Month, secure your Gloucestershire home with defensive aluminium bifold doors from Albany Windows
Interested in securing your patio entrance, widening your kerb appeal and potentially adding extra value to your property, with a beautiful aluminium bifold door installation? Get a quote, book an appointment or contact us today for further support. Don't take our word for it! Take a look at our latest bifold door review from a satisfied local homeowner:
Expert and professional – Richard, Gloucestershire – 04/03/2019 – ☆ ☆ ☆ ☆ ☆
Albany Windows installed Bi-fold doors and a new large downstairs window over 5 days. The work was thoroughly and professionally done and well supervised. We are very pleased indeed with the end results.