When it comes to choosing back doors for your home, there's a lot of decisions to be made. Even when you've decided on the type of door you want, this only leads to another decision; what material do you want the door to be made of? If you've decided on bifold doors, there's often two popular materials to choose from: aluminium or uPVC. Which one should you get? We're here to breakdown the features and benefits.
Does aluminium or uPVC offer the best view?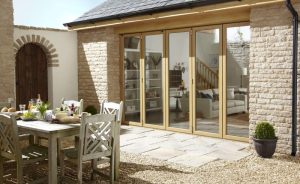 Aluminium is incredibly strong, so the frames offer slim sightlines without compromising security or performance. One of the main reasons homeowners choose bifold doors is to create the illusion of a seamless transition from their interior space out into their garden. Having slim aluminium frames helps to enhance the open plan feel that homeowners opting for bifold doors strive to create. The innate strength of aluminium also allows for larger door or window panels, meaning more glass and thus a better view.
uPVC frames are much wider than aluminium ones and therefore the views are more interrupted. uPVC also isn't as strong so it can't accommodate larger panes of glass the same way aluminium frames can.
Which is more durable; aluminium or uPVC?
Aluminium, by nature, is more resistant to corrosion resulting in your bifold doors needing little to no maintenance. There isn't a risk of cracking, warping or splitting in harsh weather conditions over time with aluminium, unlike some uPVC doors.
Both uPVC and aluminium have the benefit of low-maintenance, however, our Origin Aluminium frames come with a 20-year guarantee so you know your bifold doors will look as good as new for many years to come.
What is the more thermally efficient choice; aluminium and uPVC?
Aluminium is a naturally thermally efficient material and a replacement aluminium door will improve your property's insulation and could even save you money on your winter fuel bills. Our Origin aluminium bifold doors come with double glazing as standard, however, you could opt for triple glazed panels for next-level thermal efficiency. Due to its inherent strength, aluminium can support the extra weight of triple-glazed units.
With uPVC, thermal efficiency varies greatly between providers, and some can be less efficient than aluminium. For guaranteed thermal efficiency that will keep your home at a comfortable temperature all year round, we recommend Origin aluminium frames.
Is aluminium or uPVC better for aesthetics?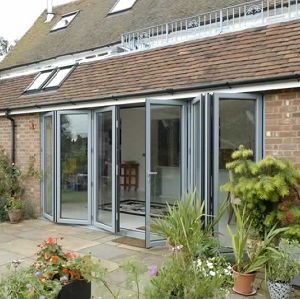 The aesthetics of your home are purely down to personal taste, however, aluminium is considered to be the more modern and minimalist option which is favourable for contemporary bifolding doors. With our aluminium bifold doors, you can choose almost any colour imaginable from the long-lasting RAL colour range, including timeless black bifold doors, as well as premium woodgrain effect finishes such as Mahogany and Antique Oak.
Although also available in a number of finishes, uPVC frames are a lot thicker than aluminium ones and are more often than not considered the less visually appealing choice when it comes to bifold doors.
So, which material should you choose, aluminium or uPVC?
There are many reasons we choose to supply Origin aluminium bifold doors. Not only are the available with slim aluminium frames, offering great views out onto the garden and surrounds, but they are also energy-efficient and secure performing just as well as traditional patio doors and are ideal for kitchens, living rooms, conservatories, orangeries, and more.
We also offer aluminium frames to suit any budget, including our standard range from Smart Systems, which still offer all of the core benefits of aluminium bifold doors at a more budget-friendly price.
Talk to us today about your bifold door home improvement plans. At Albany Windows, we pride ourselves on our high standard of workmanship and excellent customer service. Our family run business has been helping homeowners in our local area, including Cheltenham, Gloucester, Stroud, Tewkesbury, Dursley, Cirencester and Yate, with their home improvement projects. Contact us or give us a call on 01242 511384 to see what we can do for you.