Our aluminium bi-folding doors can open up entire walls offering stunning, and near uninterrupted, views of your outside space. Plus, the advanced insulation properties of our thermally broken aluminium frames mean that our bifold doors are energy efficient, helping to keep your energy bills down whilst being kinder to our planet.
For homeowners considering new aluminium bi-fold doors from Albany, it's worth understanding the standard sizes of our bi-fold doors before going ahead with the installation.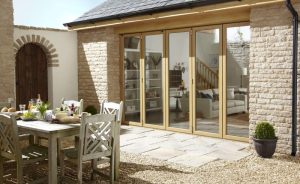 What are the standard widths for bi-fold doors?
Aluminium bi-fold doors from Origin can be custom-made to suit your specific requirements. However, a standard three-door set of bi-fold doors is typically between 70 and 96 inches in width.
A three-door set of bi-folds is one of the most common bifold door configurations which consists of a lead door and two other panes, also known as leaves. The lead door is a door that can open alone without operating the concertina mechanism of the entire bi-fold set.
What is the standard height of bi-fold doors?
All custom-made bifold doors are made to measure and designed to fit a particular size of the opening. However, a standard three-door set of bi-folds would be between 80 and 96 inches in height.
Do I have space for bi-fold doors?
External bi-fold doors are designed to fit openings that are 1.8m in size or bigger. They come in a range of sizes and door patterns, starting with two doors, and ranging up to eight doors for the largest openings.
How do I measure for bi-fold doors?
When you come to Albany for your new bi-fold doors, you can leave all of the measuring to us. As expert installers, we will take care of each step of your bi-fold door journey from start to finish.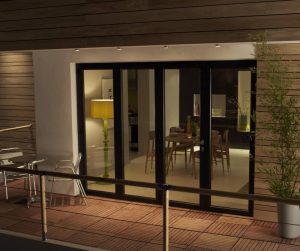 Can I have custom size bi-fold doors?
All custom-made bi-fold doors are made to measure and can even fit into unusual spaces. We're here to help and come up with a bifold solution that suits your individual needs and requirements. Even if you think you need doors that exceed the maximum or minimum sizes, it's always worth contacting us to discuss your options. As well as being flexible on sizes, our bi-fold doors boast a wealth of other desirable features:
Resilient aluminium frames
2 to 8 panes
Double bi-fold doors possible
Smooth sliding action
90% opening space
Traditional and contemporary hardware
Virtually any colour available (choose from 150+ RAL colours)
Highly secure with 5-point locks
Easy access threshold
Energy efficient
Bi-fold doors from Albany
Here at Albany, we are proud to offer a bi-fold door solution to suit everyone. Our bi-fold doors are available with slim aluminium frames, offering great views out onto the garden and surrounds. Energy-efficient and secure, our bi-fold doors perform just as well as traditional patio doors and are ideal for kitchens, living rooms, conservatories, orangeries, and more.
Enjoyed this read? Find out how much value bi-fold doors could add to your home here.