Here at Albany, we are proud to offer a bifold door solution to suit everyone. Our bifold doors are available with slim aluminium frames, offering great views out onto the garden and surrounds. Energy-efficient and secure, our bifold doors perform just as well as traditional patio doors and are ideal for kitchens, living rooms, conservatories, orangeries, and more.
Why choose aluminium bifolds?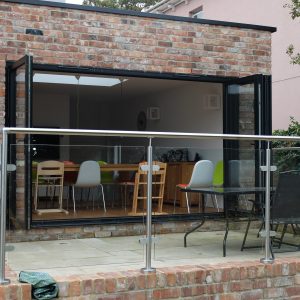 Strength and aesthetics
Aluminium is incredibly strong, so the frames offer slim sightlines without compromising security or performance. One of the main reason's homeowners choose bifold doors is to create the illusion of a seamless transition from their interior space out into their garden. Having slim aluminium frames helps to enhance the open plan feel that homeowners opting for bifold doors strive to create. The innate strength of aluminium also allows for larger door or window panels, meaning more glass and thus a better view.
Low maintenance
Aluminium is also naturally resistant to corrosion resulting in your bifold doors needing little to no maintenance. There isn't a risk of cracking, warping or splitting in harsh weather conditions over time with aluminium, unlike some uPVC doors.
Thermally efficient
Aluminium is a natural conductor, rather than an insulator, so a thermal break is used to separate the aluminium frame into the interior and exterior pieces, joining them together with a less conductive material. This helps prevent heat being transferred into the home when it's hot outside, but it also helps stop heat being drawn from the home when it's cold outside, meaning aluminium bifold doors offer excellent thermal efficiency.
Origin aluminium bifold doors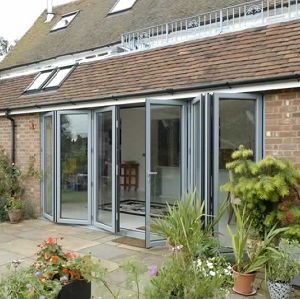 Your comfort is our first priority, which is why we source our aluminium doors from world-leading brand Origin Frames. At Albany, we install the whole Origin door range; front & back doors, bifold doors, sliding doors and French doors. Exclusively manufactured in the UK, with an Origin door you can be sure of stunning, contemporary aesthetics, slim sightlines, exceptional thermal efficiency, and cutting-edge insulation all rolled into one outstanding door package.
Accommodating a variety of shapes and sizes, the range of styles, finishes and hardware is almost unbelievable! Available in standard shades, premium woodgrain, and metallic effects or 150 gorgeous RAL colour finishes, Origin aluminium doors provide the freedom to construct the door of your dreams.
Smart Systems bifold doors
We also offer aluminium frames to suit any budget, including our standard range from Smart Systems, which still offer all of the core benefits of aluminium bifold doors at a more budget-friendly price.
With looks, security and performance at the heart of Smart System's design process, their bifold door systems have been developed to deliver long-life, low-maintenance performance. Incorporating their thermal barrier technology, each door also provides great energy efficiency – giving you improved comfort and lower energy costs for years to come.
Bifold doors installed by Albany
Albany Windows have been offering high-quality products and expert customer service to homeowners throughout Gloucestershire for 20 years. For more information about our bifold doors, or any of our other products or services, call us for free on 0800 111 4621 or contact us online.
Enjoyed this post? Why not check out our bifold door buying guide.