Discover how Albany Origin bifold doors can transform and maximise the space in your home. Whether you're looking to bring the outside in, or you'd like to unify your house and garden; our bifold doors offer the perfect solution. Here are the top benefits bifold doors have to offer.
Really increase natural light into your living space

 

 

 

Create a seamless flow between indoors and outdoors

 

Space-saving

 

when folded back

 

Extremely secure

 

Energy efficient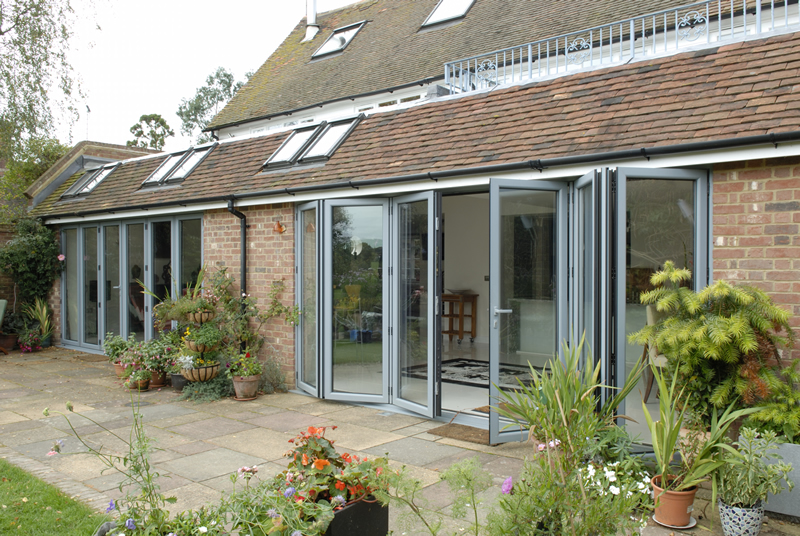 What are bifold doors?
Bifold doors, as opposed to sliding doors, open by folding back against themselves in a concertina-style. This means that when the panels are fully opened and stacked against the wall, the opening space in your home can be maximised by up to 90%. The slimline aluminium frames used in our bifold doors offer a discrete and pleasing aesthetic whether the doors are open or closed. Aluminium is widely acknowledged for its thin profile with inherent strength, making it one of the most popular material choices for bifold doors. 
Sliding doors tend to be designed using two or more large panels of glass which slide in a traditional manner to the end of the door frame; meaning even when the doors are fully open, there is still a glass partition separating the spaces in your home. 
Origin bifold
 doors
 are the 
modern 
& 
secure option for your home
Bifold doors can be pulled open from one side to the other in a simple motion, giving you full view and access to what's behind the doors. Our bifold doors come with the option of installing a traffic door, which we would highly recommend. This door opens outwards, like a traditional patio style door, allowing you to move between your home and garden without fully operating the concertina; you get the best of both worlds! 
Our bifold Aluminium Origin doors combine modern technology, cutting edge security features, and stunning architectural design to create a smooth, harmonious, transition every time you fold back the doors. These resilient and slender Origin frames also eliminate the 'shuddering' noise often experienced when operating a sliding door.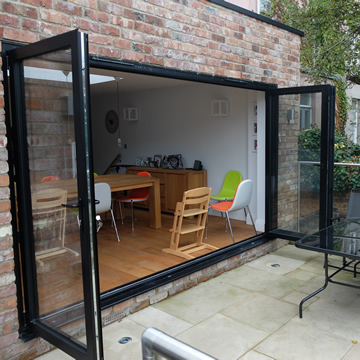 What colours do bifold doors come in?
Our hugely extensive RAL colour range means you can choose almost any colour imaginable for your bifold frames. RAL is a European colour matching system that defines colours for varnish, powder coating and plastics. Here are a few of the most popular bifold colour choices. 
RAL 7016 Anthracite grey 

 

RAL 9005 Black

 

RAL 9010 White 

 

RAL 7030 Stone grey 

 
If you are opting for a more traditional aesthetic for your home, the RAL colour range also includes premium woodgrain effect finishes.  
How are bifold doors fitted?
Albany Origin bifold doors are bottom-run. This means most of the door's weight, and the main opening mechanism is located at the bottom of the door rather than being driven by overhead lintels or beams. This makes our bifold doors one of the safest and most reliable options for your home as there is less weight at the top of the frame meaning the doors are less likely to drop. Dropped doors occur when the hinges become slightly loose. When a door drops you may find it tricky to lock or that it catches on the frame slightly.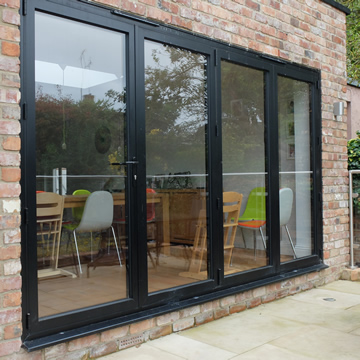 Are bifold doors secure?
Our bifold doors are one of the most secure options for your home. Security features include state-of-the-art multi-point locking systems and anti-lift blocks. Anti-lift blocks restrict the movement of the panels so that they cannot rise or be disengaged from the track. They also double up as a guide, assisting in the smooth folding action of the doors. 
Our Origin Bifold doors are known for their five-point-lock system that comes as standard, which is more than the typical sliding door. Sliding doors typically come with three lock points but this can be increased to five.  We can also offer toughened or laminated glass which, when coupled with the multi-point locking system, create a super secure and robust door for your home. 


Are bifold doors energy efficient?
All of our bifold doors come double glazed as standard with highly energy-efficient, thermally broken aluminium frames. It is worth noting that thermally broken frames come exclusively in aluminium. Thermally broken frames use a reinforced polyamide strip that is fixed between the inside and outside of the aluminium, creating an insulated barrier. This stops heat being lost through the frames. As well as having thermally broken aluminium frames, we also use argon filled glass units. Argon is a gas that can be injected between glass panels to help improve energy efficiency. It is far more viscous than air which means that any molecular movement within the gas is very restricted, resulting in far less heat transfer or heat loss.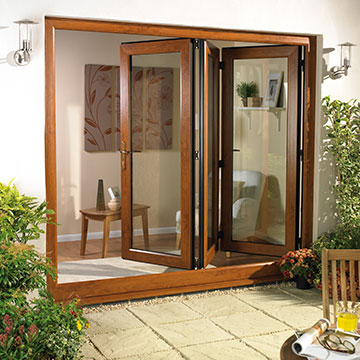 When considering the options for fitting new doors to your home, it is worth remembering these points and considering the enormous benefits offered through bifold doors as opposed to the more traditional sliding door. The choices in design and the high levels of security and efficiency make bifold doors the ultimate contemporary door solution. 
Albany Windows have been offering high-quality products and expert customer service to homeowners throughout Gloucestershire for 20 years. For more information about our bifold doors, or any of our other products or services, call us for free on 0800 111 4621 or contact us online.