With panels that fold back against themselves in a concertina style, bifold doors can increase the opening space in your home by up to 90%. This elegant and functional door solution seamlessly merges your internal living space with the outside world, providing the maximum open area and flooding your home in natural light.
Despite the appeal of bifold doors, one disadvantage homeowners are usually concerned about is having to fully fold back the bifold doors every time they want to use them. This isn't ideal if the weather is bad and you need to quickly pop outside, or if you have to let the dog out. This potential problem becomes obsolete, however, by including a traffic door.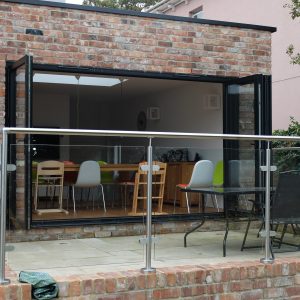 What is a traffic door?
A traffic door works like a traditional style door that is built into your bifold door. It opens and locks completely independently from the rest of the system, so you can open it without opening up the whole door. The purpose is to provide easy and convenient access between your indoors and outside spaces.
When the weather is warm you will really enjoy the benefits of your bifold door as it connects your home to the garden, but as we know, the UK weather can be unpredictable. The last thing you want to do is expose your home to the cold, wind, and rain by fully opening your bifold doors. A traffic door eliminates this problem and allows you to move between the house and garden quickly, protecting your home from the elements.
All of our bifold doors come double glazed as standard with highly energy-efficient, thermally broken aluminium frames. So even in cold weather, your bifold doors will provide the best possible view while its high standard of insulation will keep you warm and cosy inside.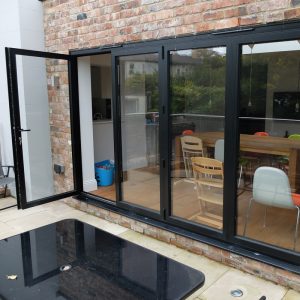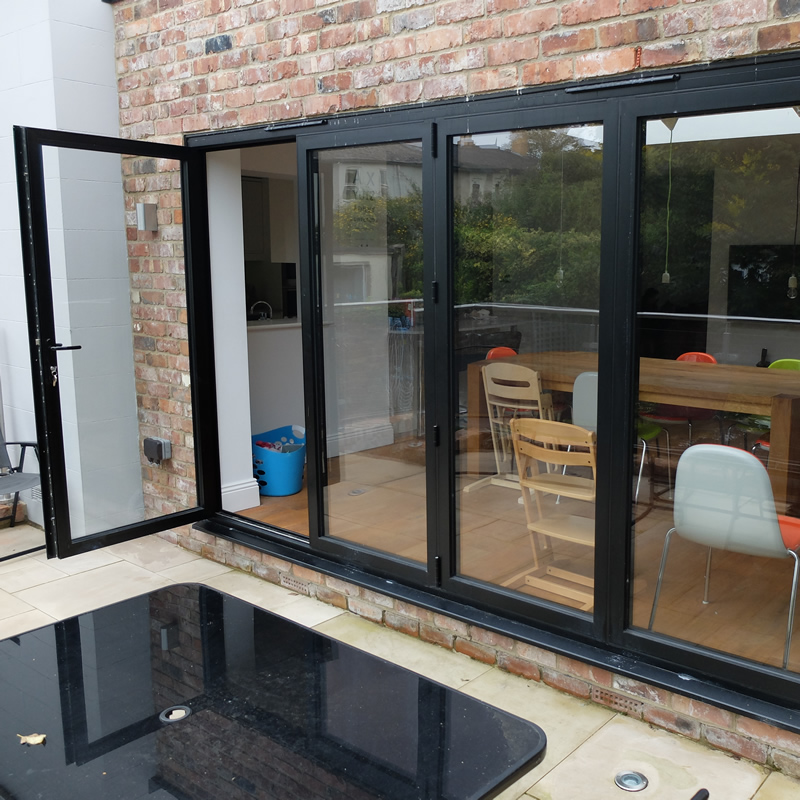 Is a traffic door always needed?
Not all bifold doors require a traffic door. If you have an alternative way of getting into your garden and accessing your house from the outside, for instance, a kitchen door, then a traffic door isn't totally necessary.
However, even when you have alternative access you might still decide to include a traffic door in the design. A traffic door adds to the overall convenience and experience of using your bifold doors.
Is having a traffic door secure?
Whether you have a traffic door included in your bifold installation or not, all of our bifold doors promise maximum security for your home. Security features include state-of-the-art multi-point locking systems and anti-lift blocks. Anti-lift blocks restrict the movement of the panels so that they cannot rise or be disengaged from the track. They also double up as a guide, assisting in the smooth folding action of the doors.
Our Origin Bifold doors are known for their five-point-lock system that comes as standard, which is more than the typical sliding door. We can also offer toughened or laminated glass which, when coupled with the multi-point locking system, create a super-secure and robust door for your home.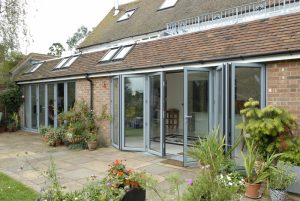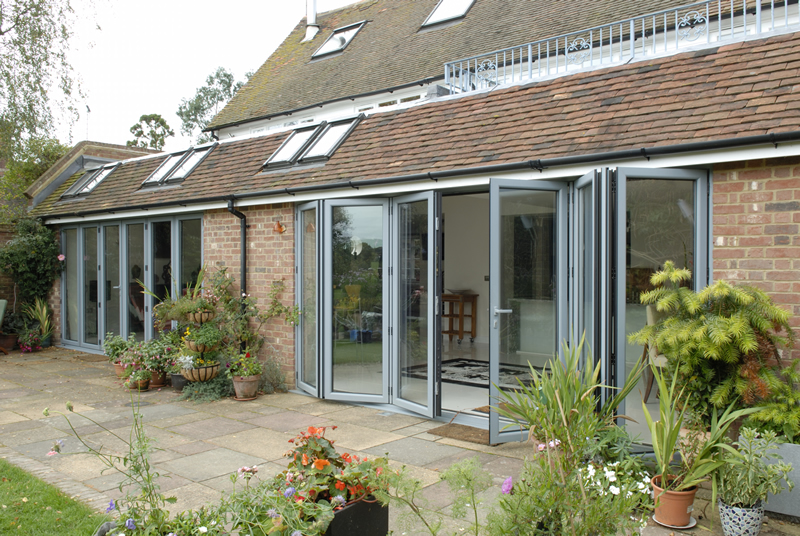 Choose bifold doors from Albany
Albany Windows have been offering high-quality products and expert customer service to homeowners throughout Gloucestershire for 20 years. For more information about our bifold doors, or any of our other products or services, call us for free on 0800 111 4621 or contact us online.
Read next:
What are standard bifold door sizes?