It's no secret that it's becoming increasingly popular to open up our homes with a sliding patio or bi-fold door. We all want to show off our gorgeous gardens after all, but which is the best option for you? Either choice, Albany has you covered!
There is no wrong answer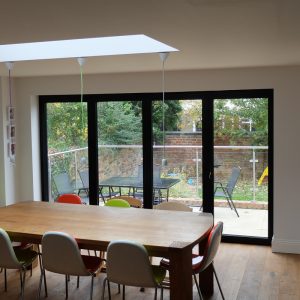 Before any worry sets in, take a breath, either choice is a great one. Bi-folds feature several leaves that fold to fully open up your space. This offers the wonderful advantage of a vast spacious feeling, literally bringing the outside in.
Sliding patio doors are made up of two or more large glass panels, with one sliding behind the other. This gives a new meaning to the expression 'Room with a View'. They allow attractive panoramic views of your garden thanks to the minimum amount of frame required.
Both doors can add value to your home as will open up your garden space and let you bring the outside in. They become particularly handy for garden parties as your guests can easily flow between your home and garden with ease.
What are the main differences between bi-folds and patio doors?
Bi-folds act as an impressive and visually pleasing alternative to traditional sliding patio doors. The biggest advantage found with bi-folding doors is the amount of space they reveal. Thanks to the aid of vertical panels, when folded fully bi-folds can reveal almost all of the garden ahead of you. Now that's letting nature in! Even on those rainy days, the aesthetic appeal of bi-folds is still a key aspect to consider. With slim frames, you can enjoy unspoilt views year-round and by stacking on one side they won't take up any of your valuable space.
Patio doors are making a large come back into 21st century homes, no longer being considered as an archaic walkway to your garden. Traditional patio doors with their large glass panels allow in as much light as possible. They take up little space thanks to their one track slide and make more sense for the smaller patio and people who want to enjoy unimpeded views.
Both our sliding patio doors and bi-folds are specifically designed to be immensely secure and energy efficient. With our energy efficient glass and frames, whichever material you choose, our doors will keep your home comfortable and safe.
What's the cost? – Tell us your needs
Understandably one of people's main concerns when debating which type of patio door to consider is price. You may be surprised at what you can afford after looking into what features you require. Do you want aluminium or uPVC frames? We offer both options. How many panels for your door? We provide various options for both bi-fold and patio doors including a range of modern and traditional hardware and various colours.
We provide high performance and aesthetically pleasing doors to complement your home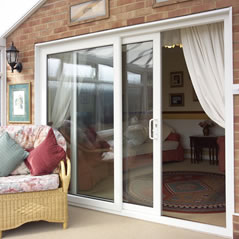 Albany doors come with a wide range of options to tailor to your needs. Dedicated door and window installers since 1999, we pride ourselves on providing high quality products at affordable prices.
Based in Cheltenham, we're ideally based to install patio doors anywhere around the Gloucester, Tewkesbury, Cirencester and Stroud areas. Get in touch to discuss our exciting range of patio door options and find the right one for your home.