As homeowners ourselves, we fully understand the need to keep your homes' features up to date – after all, you never know what's around the corner that could mean having to sell up. From not being able to move up the property ladder due to budget, Brexit uncertainty or simply avoiding the headache of moving, more homeowners than ever are focusing on how they can effectively add value to their Gloucester home in an attempt to prepare for any eventuality.
Double glazing is renowned for making Gloucestershire homes more sellable, able to raise resale values by up to 10%. But what about bi fold doors? Is all the hype surrounding this modern entranceway justified? Let's investigate!
Can bi fold doors add value to your home?
Did you know that secure doors and windows are the third most important feature to prospective homebuyers? Some home improvements can work out more expensive, adding less than they initially cost. However, you'll be pleased to learn that this is not the case with bi fold doors Gloucester. Often creating the feeling of an extra reception room, estimates show that bi folds can add between 5-10%; dependant on the size of the project and the quality of the materials used.
Why are bi fold doors so highly regarded by Gloucestershire buyers?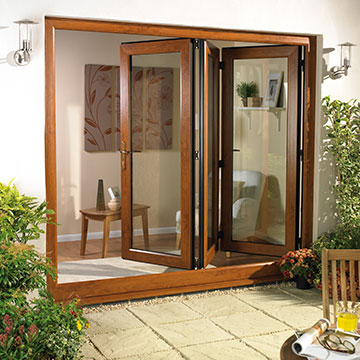 Always hungry for the next technological advancement to come along, bi fold doors remain a firm favourite with property developers and house hunters. The reasoning behind this includes:
The space-saving, concertina opening style of bi-folds takes up no more than 10% of the room
The versatile design equally compliments modern and traditional properties
Enhances both open plan and 'broken plan' living styles
Creates perfect spaces for entertaining
Added protection against intruders
Administers a definite 'wow' factor (especially premium aluminium bi fold doors)
Increasing your energy performance rating can add value too!
It's crucial to note that high-performance bi fold doors are more than likely to increase your homes Energy Performance Rating (EPC), thanks to their highly efficient frames and glass; aluminium bi folds more-so, due to their thermal break element. Good energy performance is another must for homebuyers, able to boost property values by as much as 14%!
Save money by investing in high-performance bi fold doors Gloucester
With an Albany Windows bi fold door installation, gain the freedom to create a memorable entrance completely tailored to your specific tastes, lifestyle and specifications. Get a no-obligation quote or contact us today to discuss your options further.
Related to this post:

Top 10 ideas and tips for your bi-fold doors this summer

How to choose the right bi-fold doors for your home