Here at Albany, we pride ourselves on being able to offer our customers a wide range of bespoke window options. This journey, of course, all begins with the type of material you wish to choose for your frame.

More and more homeowners are wondering uPVC vs aluminium windows – which is better?
We're here to help explain the benefits of both aluminium and uPVC windows, hoping it aids you into making the right choice that wholly benefits your home!
uPVC windows
uPVC, or to give its full name; unplasticised Poly Vinyl Chloride, has been a widely used window material in the industry since the 1980s. Tough, resistant to rot, and requiring very little maintenance, uPVC windows have been a popular choice with many homeowners. Although cheap uPVC windows have gradually tarnished their reputation in recent years.
Slimline aluminium windows
An alternative to this, aluminium combines high aesthetics with incredibly high performance, creating a window suited to the demands of a range of properties. Aluminium windows have experienced a surge of popularity in recent years, thanks to their use in home improvement television shows such as Grand Designs. No longer just for commercial buildings, domestic aluminium windows are perfect for adding a touch of modern elegance to a property.
What is the difference between aluminium and uPVC windows?
There are obviously many differences between the two materials, each having their own individual benefits whilst surprisingly having a little crossover too! Here are 6 differences which help outline things you may want to consider:
uPVC windows vs aluminium windows price comparison
First thing's first, let's get rid of the elephant in the room. Aluminium is nearly always much more expensive to install compared to typical uPVC. This is largely a result of manufacturing costs which installers, unfortunately, have to compensate for.
Due to the uPVC spike in mass popularity since the 1980s, demand makes it a much more affordable product. Aluminium may one day match British uPVC demand, but for the time being it remains the most expensive of the two materials.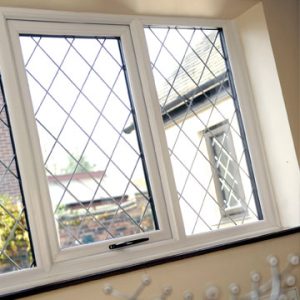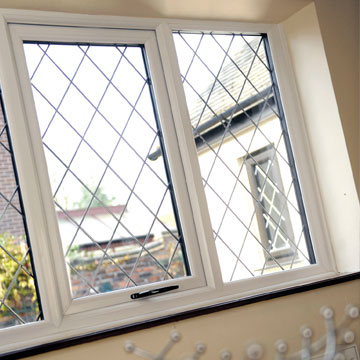 Which material is more durable, uPVC or aluminium?
Although most uPVC windows typically have a long life span, the frames might not last as long as aluminium. Aluminium is a much more robust material for use as a window frame. With proper care, it can be fitted to last almost infinitely, whilst being fairly low maintenance.
How energy efficient are double glazed aluminium windows vs uPVC double glazing?
It's actually the law for any newly installed window to achieve an energy rating of at least a 'C' in Window Energy Ratings (WER). Thankfully any window supplied by us achieves an A+ BRFC rating to result in the ultimate energy efficiency.
Whilst many original uPVC windows fitted in houses today have the unfortunate reputation of being terrible thermal insulators, modern uPVC is quite the opposite. Contemporary uPVC now makes use of a complex internal profile which maximises thermal retention.
Aluminium windows can achieve the same levels of energy efficiency. Thanks to an innovative polyamide thermal break, aluminium windows are equally thermal retentive to keep any home warmer for longer. Aluminium or uPVC – you can't go far wrong when looking for energy efficiency.
Aesthetics
When choosing what kind of window frame to pick for your home, it's ideal to have one that can increase the beauty of both the inside and outside of your home. Never feel bad for considering style as well as function, aesthetically pleasing windows can even add value to your home!
Thanks to their incredibly sleek sightlines, aluminium frames make for some great views of the outside from the inside of the house. Despite these slim profiles that they are capable of holding larger glass panes thanks to their strong durability, enhancing the amount of natural light that enters your home.
uPVC frames can also look remarkable under the right circumstances but there is slightly less leeway when it comes to customisation. Both materials can, however, be coloured to your liking thanks to an extensive range of RAL colours; black aluminium windows and grey aluminium windows are particularly popular at the moment – as are grey uPVC windows and black uPVC windows. Furthermore, powder coated aluminium windows are one of the most durable options available, as they provide low maintenance and weather resistant surfaces that can be finished in a wide range of colours. In terms of visuals, it all comes down to the kind of property you own and whether you think uPVC or aluminium will suit it more.
Sound Proofing
One way in which uPVC does trump aluminium is in its insulation capability. uPVC was originally designed to be a competent insulator and as such, provides the best soundproofing capability for homeowners who live in a busy built-up area. Despite both frames being able to be double or even triple glazed, compared to aluminium, uPVC's capability to keep out sound is sometimes a reason for its popularity.
Ease of maintenance
Homeowners are always looking for a window that they don't have to spend time worrying about. It's understandable, these are the best kind. Dated windows (uPVC or otherwise) often need attention – replacement windows from Albany change all that!
uPVC is a great option if you want a material that is easy to maintain. Thanks to the high quality plasticised material, they are continually easy to clean and just require a simple wipe-down with a cloth, if ever they get dirty.
Equally impressive, aluminium windows are incredibly robust which makes them resistant to corrosion and are completely weatherproof. This enables them to look as good as the day they were installed, never rotting or warping.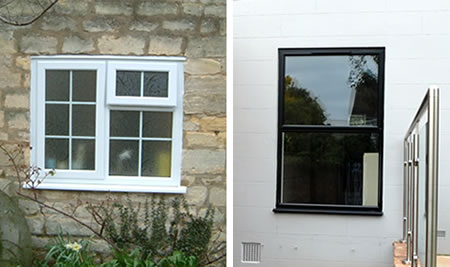 Which should you choose? – Every homeowner is different!
Aluminium or uPVC windows – that is the question!
Aluminium: If you desire a window that is both energy efficient whilst making for some sleek enticing sightlines, aluminium windows are the choice for you. Despite their higher cost, they can last longer than their uPVC counterpart and offer many benefits as a result.
uPVC: If you want a window that provides effective soundproofing that is also highly low in maintenance, uPVC can more than meet your needs. They can also be coloured to successfully fit into the features of your home.
Aluminium double glazed doors vs uPVC double glazed doors
Depending on the type of home you have coupled with the size of your budget, an aluminium glazed door could considerably enhance your home; both aesthetically and thermally. Please visit our comprehensive aluminium doors page for further information.
Albany Windows: Window installer Cheltenham specialists
Both windows each provide their individual benefits, making them each a solid choice. Albany Windows can provide any extra information you may need having over 15 years' experience within the home improvement industry. If you're thinking of replacing your dated windows or looking for glazing unit repairs, contact us today!