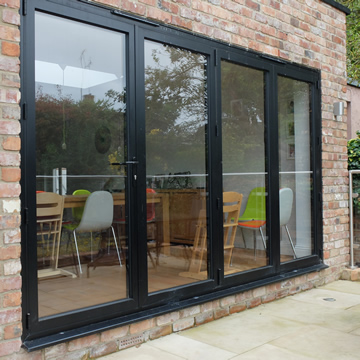 With summer fast approaching and 2017 being the year for home improvements, it seems like the right time to introduce bi-folding doors to your home. Here are 10 ideas and tips to help you make the most of your bi-fold doors this year.
A door with a view
The beauty of bi-fold doors is the stunning views they offer. With wide panes of glazing and slim frames, you can see across the whole of your garden and surrounding countryside. Position your doors carefully so they offer you the best views as well as filling your home with light.
A simple way to extend your home
Bi-fold doors are the perfect choice for smaller rooms and gardens as they give the illusion of more space. With a unique stacking configuration, bi-fold doors don't encroach on your space. When open they allow you to easily move between your inside and outside living spaces.
Be open to open-plan
Add some open-plan living to your home with a set of bi-fold doors. As well as opening up your space they allow your garden and home to flow into one. Imagine garden parties where your guests can drift in and out of your home and garden. Your space will feel much larger and guests are bound to be impressed.
Take advantage of the beautiful weather
As soon as the warmer weather arrives, dinner outside becomes a more appealing option. If your kitchen or dining room leads into your garden, a set of bi-fold doors will let alfresco dining become a possibility every day.
Shade yourself from the sun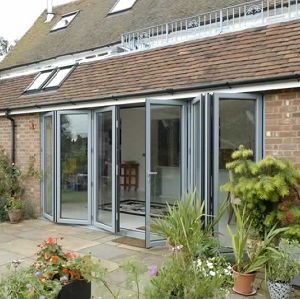 If you want to be able to control how much sunlight you let into your home, consider integrated blinds. These are fitted in between the glass panes so are maintenance free. Keep your room as shaded as you want and also add a tropical feel with bright white blinds.
Versatile and ultra-modern
With our bi-fold doors you can have up to seven panes. This means that you could have an entire glazed wall. This could become an extremely impressive focal point for your home. If you want to create a modern feel in your home, bi-folds are a great way to achieve this. Maximum glazing with slim frames is the perfect way to keep your home on trend.
Let your spaces blend into one
Another brilliant way to make your outside space feel continuous with your home is to have the same flooring on both sides of your bi-fold doors. Whether it's wood, wood-effect or stone flooring, if you have the same pattern inside and out, your whole space will feel larger.
Let your bi-fold doors showcase your style
We offer bi-fold doors in both classic, efficient uPVC and ultra-modern aluminium. With 19 colours for uPVC and the impressive RAL collection available for aluminium, create a statement with your bi-fold doors. Be different and go for a bold, bright colour that makes you stand out from the rest.
Easy access for all
With low threshold options, you won't even notice you're outside with no barrier between your home and garden. This option also makes moving between your spaces easier for those with mobility issues.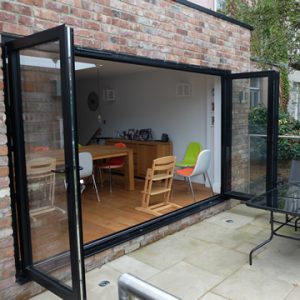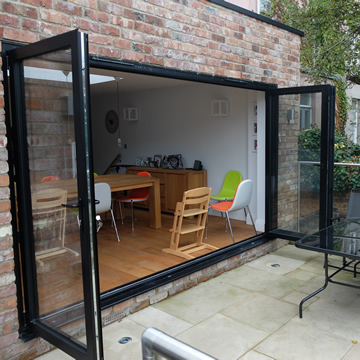 High performing doors suitable for any weather
Control the air flow around your home. When it starts to heat up, you can leave one pane of your door open to let the cool breeze in. However, once the winter sets in, our bi-fold doors offer all the insulation you'll need. Our uPVC is highly efficient and our aluminium is thermally broken, both will protect your home from draughts. This will help keep your energy bills low and your home comfortable all year round.
Your best choice for summer home improvements
Bi-fold doors from Albany Windows are a lasting investment that you'll love for years to come. With a wide range of personalising options and a 10 year guarantee, these doors will enhance your home and change how you use your space. Get in touch to add bi-fold doors to your home just in time for summer.