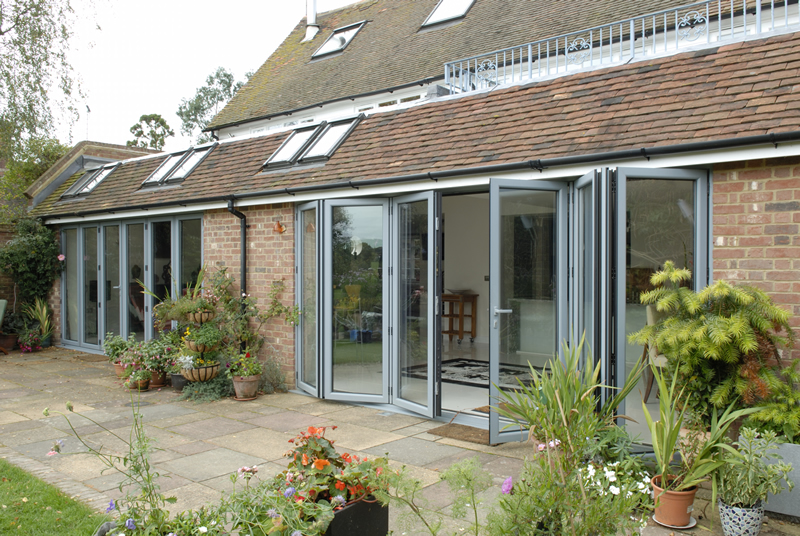 Bi-fold doors are the innovative alternative to traditional sliding patio doors. Instead of sliding, these doors fold and stack to one side. This fully opens up your space and lets you move between your inside and outside spaces freely. If you enjoy hosting garden parties, these doors are ideal. Another advantage of these doors is the amazing views and light they give you. With slim frames and large glass panes, the maximum amount of natural light can fill your home. You will also enjoy amazing views across your garden and surrounding landscape. How can you choose what the best bi-fold door is?
Aluminium vs uPVC bi-fold doors
We offer both uPVC and aluminium bi-fold doors so you can find the right one for your home. Both open inwards or outwards, so you can choose the configuration that works best in your home. Multipoint locks come as standard to ensure that your home is as secure as possible. Attractive contemporary or traditional hardware is available with our doors, so they can suit any property. Available with two – seven door leaves, you can have a whole wall glazed if you wish. We can even add integrated blinds into your bi-fold doors. As well as looking attractive they'll keep you shaded during the summer. As they're inside the double glazing, they can't break or get dusty.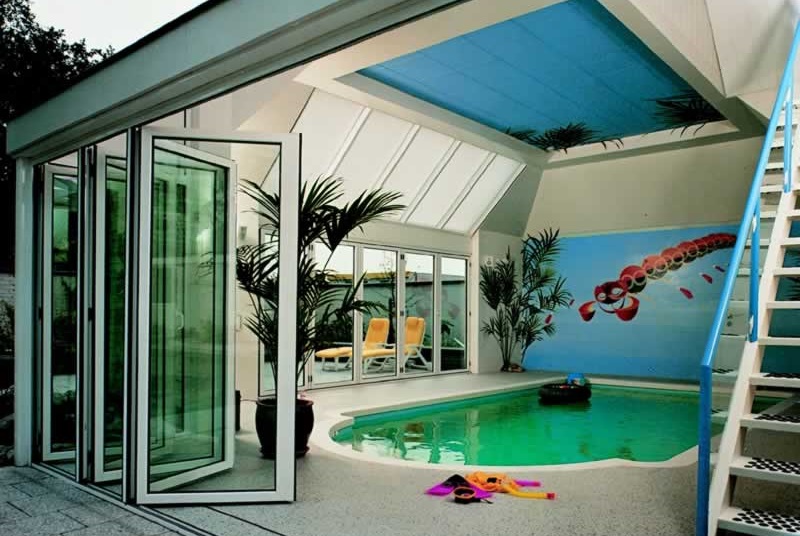 uPVC bi-fold doors
Our uPVC bi-fold doors offer all the reliability you would expect from this popular material. Thermally efficient and maintenance free; a uPVC door will keep your home warm for years with no effort. uPVC is an affordable and versatile material that can create both a traditional or modern feel in your home. Choose from 19 colours including woodgrain effects to give your home an authentic feel. With uPVC you never need to worry about repainting and the colour will stay looking good for years.
Aluminium bi-fold doors
Whatever you use it for, aluminium is an impressive material. With its sleek and modern appearance, it can make your home look like something out of Grand Designs. Aluminium won't rust, even in harsh environments and requires minimal maintenance to keep it looking good as new. Aluminium is inherently strong so can cope with large glass panes with slimmer frames. With a thermally broken profile, your warmth is kept in all year round and the cold is kept out. To give you even more choice you have two threshold options. Choose rebated for superb weatherproofing or the low option to make your home easily accessible for everyone.
The best bi-fold doors for your Gloucester home
If you'd like to find the perfect bi-fold doors for your homes, we have everything you need. With expert local knowledge from Cheltenham and Stroud to Gloucester and Cirencester, we know how to transform your home. Our high-quality products will ensure your home always looks its best. Get in touch today to find out what a new set of doors could do for your space.