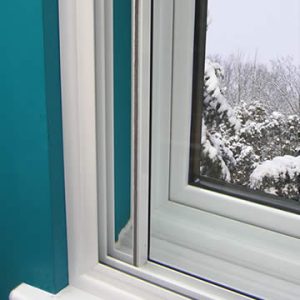 At Albany Windows, we understand that it's easy to find yourself caught up in all of the various glazing jargon used when researching what technique might be best for your new replacement windows. That's why we're committed to relaying the ins and outs of each type in a totally understandable way, answering the age old question as to whether or not secondary glazing is better than double or triple glazing!
What is secondary glazing?
It's easy to get mixed up between the terms 'secondary' and 'double' glazing, but don't worry, despite some common misconceptions they aren't the same thing. Simply put, secondary glazing is the addition of a second glazed panel that fits into the frame of your existing windows, removing the need to redecorate your entire window in order to accommodate the introduction of double glazing.
Especially for those who reside in historical of traditional-style properties, secondary glazing is also the preferred option when compared to other glazing techniques due to its ability to offer enhance benefits without the need to create a dramatic change with replacement double glazed units.
How does it compare to other glazing practices?
As with most new improvement practices available for the home, with any of the three glazing it's important to weigh up the benefits of all three! Whilst double and triple glazing do indeed offer enhanced energy efficiency and home comfort, secondary glazing offers a series of additional subtle advantages that may improve your home life if the following ways are important to you:
Most effective way of reducing intrusive noise pollution
Can be installed to existing double glazing for better acoustic insulation
Preferred option for heritage and conservation officers
Fast installation in every type of environment
Simple installation without the need to redecorate
Increases the value of a period property
As well as these various notable benefits and advantages, secondary glazing much like both double and triple glazing practices can easily improve thermal efficiency of a single glazed window by up to 60%. You will also be able to enjoy significant draught reduction thanks to better sealing and it's a better form of protection that is less damaging to the environment.
Bespoke secondary glazing in a range of configurations from Albany
We hope we've helped you gain a little more perspective on the differences between secondary glazing and other available methods. If you'd like to enjoy all of the benefits secondary glazing has to offer, call our team on 01242 511384 or contact us online today!