Double glazing can not only enhance the energy efficiency of your Gloucestershire home and save you money on heating bills, but it can also improve security. It has often been an improvement on single glazed products, but modern double glazing has reached near-impenetrable levels of security.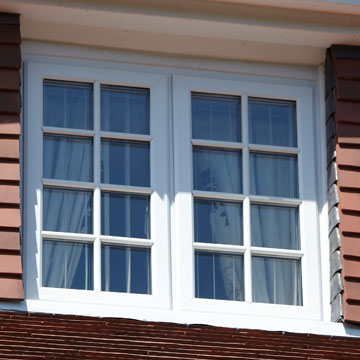 Is double glazing hard to break?
Modern double glazing has a multitude of security features, such as the thickness of the design itself. With two panes of toughened glass reinforced and an argon gas in between essentially acting as a shock absorber, forced entries are close to impossible.
In fact, double glazing has been so difficult to break that people have been trapped during fire-based incidents, though modern designs account for this. Here are three further double glazing security features.
1) Multi-point locking systems
Multi-point locks are an important feature of double glazed windows, generally ranging from three locking points to five. For added protection, there can be extra bolts installed on the side of the frame where the hinge is located. With the multi-point locks, a significantly strong seal is created which seriously hampers any attempts from would-be burglars to enter your home.
2) Internal beading
When a window is internally beaded, it means that the beading strips are located inside the frame. As a result, the glass unit is safely secured from the inside of your home.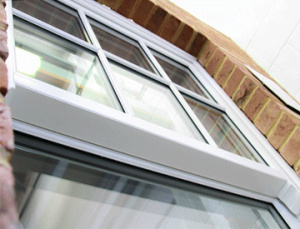 Therefore, for prospective intruders, the only way to remove the glass is to attempt to break through. In terms of modern double glazing, internal beading tends to come as standard.
3) Hinges and handles
Keys give homeowners further peace of mind, and that is no different when it comes to double glazed windows. Having handles that utilise keys to function gives an extra bit of security, preventing the opportunity to open windows from the outside if the glass has been broken.
Hinges can also be used for different security-based scenarios. For example, restrictors are able to prevent the window from being opened fully and giving an intruder an easier route inside. Additionally, shoot bolts increase security via their strong properties, allowing the window to be safely fastened at the top and bottom, further limiting the chances of it being forced open.
How can I make my double glazing more secure?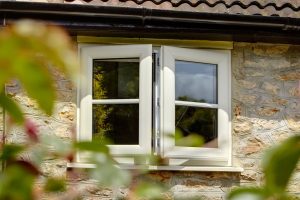 While double glazing is significantly secure due to its numerous security features, there are also things to look out for to ensure that your windows are secure as possible.
If you have older double glazing, it may be worth looking into having it replaced. Especially if it is over 20 years old and features external beading, the vulnerability is increased as the modern features will not be applicable.
Maintenance is an important part of ensuring that your double glazing stays secure. If you do not maintain your windows properly, then the likelihood of damage increases which can lead to forced entry becoming easier.
Triple glazing options
Triple glazing is another glazing option that provides superb security. With its extra pane of glass within the design, triple glazed windows are even more difficult to break because of the toughened glass. Triple glazed windows are also significantly strong and durable, meaning the chances of them falling victim to a burglary are very slim.
Make your home more secure with glazing options at Albany Windows
At Albany Windows, we have a range of glazing options for your Cheltenham home. We offer A+ rated double glazing for properties all across Gloucestershire as well as our fantastic triple glazing. To help with improving the security of your property, contact us on 01242 511384 or 0800 111 4621 or get a free quote.