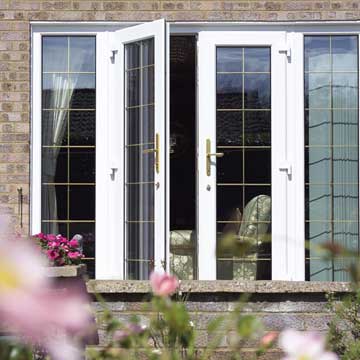 Bespoke features to make you exclaim "ooh lala"
Trying to find the perfect way to tempt yourself back into the luscious beauty of your home's garden?
Classical style French doors from Albany Windows much just be the ideal solution! Boasting glorious outside views and two smooth functioning door panels that never hinder your transition, this classic door set is ideally suited to open out to your garden and bring you closer to the outside.
1.Illusion of extra space
French doors succeed in providing unimpeded views of the outside, giving the appearance that the room in which they are installed extends far beyond its actual reach. Your living space will feel instantly more expansive, surrounding you with more of your garden's natural beauty.
2.Large glass surface area
In either timber, uPVC or aluminium, French doors feature large glass surface areas which allows for natural sunlight to more easily penetrate your home. The mood of your living space will benefit greatly from a lighter and brighter atmosphere, soaking up the natural rays of light the sun has to offer, successfully bring the outside in.
3.Smooth operation for easy access
The last thing you want to experience when transitioning from home to garden is a great deal of hassle. Thankfully advancements in modern French door design ensures that they operate effortlessly and efficiently, making every time you step outside a smooth experience when each door panel opens outwards.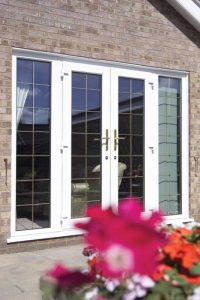 4. A classical yet stylish design
The beautifully traditional design of a new set of French doors will never fail to tempt you ever closer to your outside garden. No matter which side of your newly installed French doors you find yourself relaxing on, their vintage yet elegant design compliments both the inside and outside of your home.
5. Fully customisable
For added personalisation French doors can be styled however you choose, allowing you to be truly creative when opting for new doors for the back of your home. With colours that range from classic White, Gale Grey as well as authentic wood effect finishes such as Rosewood and Antique Oak, every French door can be styled to seamlessly tie in with your patio, extension or garden.
Swift and efficient French door installations from Albany Windows
Albany Windows is a friendly and reliable double glazing installation company, readily committed to providing any home in Gloucestershire with high quality products that brings people closer to achieving the house of their dreams. If you'd like the feeling of being closer to the beauty of the garden, call us on 01242 511384 or contact us online for a free quote.