If you're looking at uPVC front door ideas and wondering what colour will best suit your home, we're here to provide you with some inspiration. At Albany Windows, we offer a range of colours and finishes to suit your home's individual style, personality and personal preference, we are sure that we have a uPVC front door colour that is right for you.
You might also want to choose a colour which is in keeping with the other homes in your area – but then again, you might want to stand out from the crowd.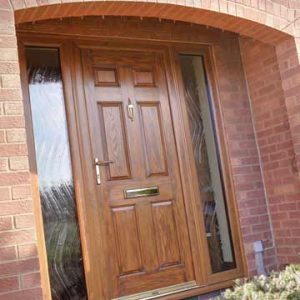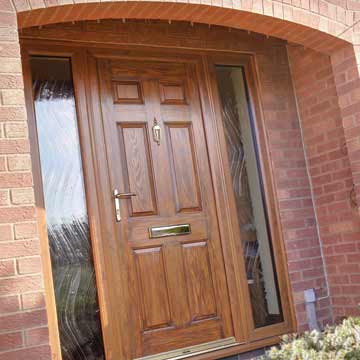 Why choose a uPVC front door?
Before we jump into the different colour options for our uPVC front doors, it's worth noting some of the benefits of uPVC and why it remains the most popular front door material for UK homeowners today.
Cost: the outlay for a uPVC front door is low, meaning it will put less of a strain on your budget at the outset.
Low Maintenance: uPVC is naturally low maintenance. A simple wipe down with a damp cloth every once in a while is enough to keep your door looking as good as new.
Secure: We have sourced uPVC front doors with the highest security credentials. The door frame can be reinforced with steel for extra security and the locking system, backed by a 10-year hardware guarantee.
Energy-efficient: uPVC is a naturally thermally efficient material and a replacement uPVC door will improve your property's insulation and could even save you money on your winter fuel bills.
19 uPVC front door colour options available
You can colour your uPVC front door in one of our stunning 19 shades or premium woodgrain effect finishes. Classic white is always a popular and versatile option for uPVC front doors, but blue, grey, red and green shade doors are also highly sought after.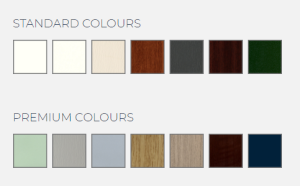 UPVC front door colours are scratch and fade resistant
The quality of uPVC paint has improved so much that modern colours are scratch-proof and fade-resistant. Thanks to the advanced colour bond technology used in its formula, uPVC paint is resistant to the UV damage that causes fading. This is due to the formula that changes the molecular makeup of the uPVC frame
Woodgrain uPVC front door finishes
uPVC front door colour technology has advanced so much that now woodgrain finishes are possible. Woodgrain finishes, like the ones we offer here at Albany, help to emulate the traditional, heritage aesthetics of timber. This makes it the perfect, maintenance-free alternative to real wooden windows.
Want matching coloured uPVC windows?
It's worth noting that you can buy both coloured uPVC doors and windows, so if you also replacing your uPVC windows you might be able to choose matching colours or different colours that complement each other.
Dual colour uPVC front doors
We offer a dual-colour uPVC front door option with a colour on the outside in keeping with the character of your property and an alternative colour on the inside to match your interior décor.
Dual colour finishes offer homeowners much more design flexibility and are the perfect way to create a unique finish for any home.
Not only can you choose contrasting colour shades on the internal and external frame, but it is also possible to select both stained and painted finishes on the same product.
Front door colours to suit Cheltenham and Gloucestershire homes
With stunning architecture, its race-set glamour, farmer's markets and enviable proximity to the beautiful Cotswolds, it's not hard to understand why Cheltenham is such popular location. Most homes in this area showcase Regency or period styling. Regency architecture encompasses classical buildings built in the UK during the Regency era in the early 19th century.
Like Cheltenham and other Cotswolds towns, Gloucester has its fair share of stunning Regency and Victorian homes in the city centre. A host of modern apartments with great views across the city have also been built in more recent years, while a traditional Cotswold stone cottage can be found by looking to places like Bibury or Stow-on-the-Wold.
If you're wanting a uPVC front door colour that reflects and enhances the period style of your Cheltenham or Gloucestershire home, try incorporating rich deep blue hues, such as our Steel Blue. Characteristic cool grey tones such as Hazy Grey also work beautifully on Regency-style properties, while airy Willow or Chartwell Green shades look glorious against Cotswold stone.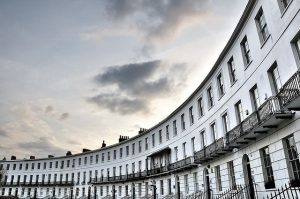 Front door colours for when you're selling your home
Whilst it's your front door, if you are likely going to sell your property in the near future, you might want to consider more neutral or classic colours to appeal to more buyers. Think of classic White, Antique Oak or Irish Oak to keep things neutral.
A wide range of coloured uPVC doors throughout Cheltenham and Gloucestershire
If you're looking for a coloured uPVC front door, Albany are the home improvement company to choose. All of our uPVC front doors are available in a wide range of colours and finishes, to match any property. Get in touch today to find out more about our uPVC front doors. You can also pop along to our Cheltenham showroom to see our selection of home improvement products for yourself.