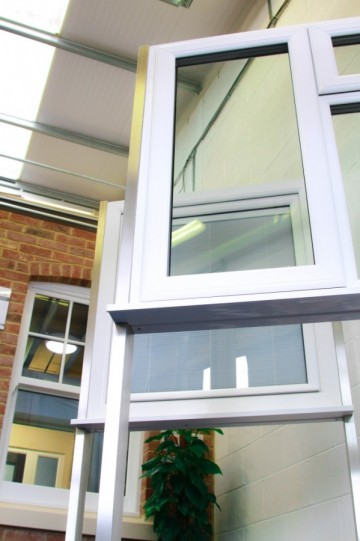 With the media this week forecasting one of the harshest winters on record, taking measures to make your home as warm as possible is a very wise decision to make. One of the most cost-effective ways that you can improve the warmth of your home is by installing double glazing.
Double glazing: designed to improve the warmth of your home
Double glazing is one of the must have products in the home improvement industry. If your home doesn't already make use of double glazing in some form, then you are significantly missing out when it comes to the overall performance of your home.
Here at Albany, all of our glazed products are supplied with double glazing as standard. This is because we feel that all of our customers should benefit from the amazing properties of double glazing. Here are just a few of them:
Benefits of double glazing
1. Improved warmth in your home
The key benefit that double glazing provides is that of improved warmth: perfect for the cold winter months. Relatively simple in concept, double glazed panels consist of two panes of glazing separated by a spacer bar, the gap between the two usually being filled with an inert gas such as Argon. This insulating space helps to trap heat and slow its escape from a building. Overall, this means that your home is kept warmer for much longer and by using less energy.
2. Lower energy bills
One of the consequences of installing double glazing is lower energy bills. As mentioned above, thanks to the fact that double glazing keeps your home warmer for longer, you won't have to use as much energy to maintain a comfortable temperature around the home and this can significantly reduce the cost of your energy bills. If you want to make your home more energy efficient, cheaper to run and better for the environment, investing in double glazing is a very sound decision to make.
3. Reduced noise pollution
As well as being an excellent thermal insulator, double glazing is also a useful acoustic insulator. Thanks to the gas-filled sealed units of a double glazed window, excess noise from outside such as road traffic, aeroplanes and pedestrians can be noticeably reduced. This can make your home a much quieter, and more comfortable place to relax in.
4. Better security
You may not think it at first glance, but adding double glazing to your home can significantly improve its overall security. This is because double glazing is a lot thicker than conventional single glazing, and withstands much higher levels of sustained attack. This can make it a good security feature to deter even the most determined of intruders.
Get ready for winter with double glazing from Albany
Why not find out more about our double glazing, and request a free, quick quote by giving us a call on 01242 511384 or by sending us an email. We hope to hear from you very shortly.