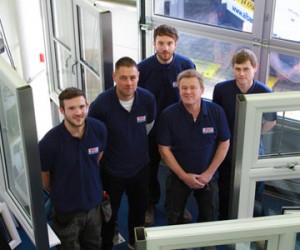 At Albany Windows, we're proud of our window installers and the service we offer our customers. It's helped us grow from a small family company in 1999 to a full-service home improvement company. This is the team that's helped many homeowners across Gloucestershire achieve their dream homes and helped us get to where we are today…
Over 35 years experience of surveying and window fitting
Peter Knox (second from the right) is Albany's Installations Director and one of the owners of the business. He started fitting windows when he left school and now has over 35 years' experience of surveying and fitting windows.
'A happy workforce is a good workforce'
Responsible for Albany Window's installations, Peter believes that the high quality of our installations is a direct result of having a happy workforce.
He said "I have a great team who I can genuinely say all take a real pride in meeting the high standards I set, on every job. It's enjoyable outdoor work with a lot of variety and different challenges and, while we always show our customers and their homes the utmost respect, and enjoy meeting new ones every few days, we have a great time together too, as my motto is that a happy workforce is a good workforce."
For Peter, the reason Albany Windows installations are so good is because our workforce are incredibly skilled and happy.
A family company: two generations of continuity
As well as a happy workforce, Albany Windows also have continuity in being family run.
Recently Peter's son, Nathan, joined Albany. He originally qualified as a carpenter and has worked on several general building projects before joining his father in the business. Like his father he is now a fully-accredited GQA NVQ Level 3 Fenestration Surveyor.
Nathan quipped, "How I put up with working with my Dad I don't know, but yes, the rest of the lads are great."
Ensuring that our family values remain a central part of our business is a great way to safeguard the exceptional quality of Albany Window's products and services.
Albany: Gloucestershire's leading home improvement company
Based in Cheltenham, Albany Windows supply and install a range of windows, doors and conservatories across Gloucestershire and the South West. Learn more about our window installation teams or give us a call to find out more!