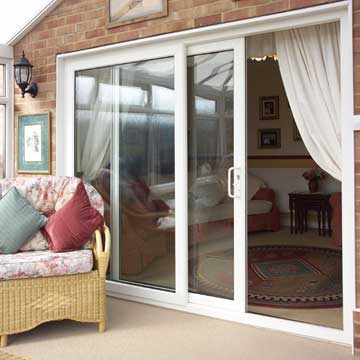 With such a variety of quality renovation products to choose from, deciding between modern and traditional aesthetics is becoming increasingly difficult for homeowners and businesses across Cheltenham and Gloucester.
As more and more homeowners realise the value of emphasizing their homes' view, it's not surprising that the popularity of aluminium sliding glass doors steadily continues to rise. Interest in uPVC sliding patio doors remains buoyant, but aluminium remains a firm favourite; providing less door and more view to deliver the ultimate connection to outside spaces.
Our customers keep telling us about the need for a simple sliding glass door buying guide. So, without further ado, we've created one especially for you (with some helpful frequently asked questions thrown in for good measure!)
Sliding glass door buying guide
1. What do you want to achieve?
The best place to begin is by asking yourself what you want your home improvement project to achieve. If space maximization, uninterrupted views and effective heat retention are essential to you, then it sounds like a sliding patio door is right up your street. If space isn't so much of an issue and your main objective is to merge your indoor space with your garden space, mainly throughout the summer months, then a bifold door is probably best suited to your needs.
2. Door size & position?
Before deciding on the material for your new sliding glass door, you need to examine the door size required and its position in the property. With 2, 3 or 4 panes available, if your door is more than four metres in width then sliding glass doors are the best option for your improvement project. The environment is also an important aspect to acknowledge, as uPVC is prone to expansion and contraction in hotter temperatures. uPVC can also fade in direct sunlight, so if your new sliding glass doors are going to be installed in a sun trap aluminium sliding patio doors are the preferred option. Furthermore, your home security can also be called into question depending on the position that they're installed, which is why sliding patio door lock upgrades are also worth considering.
3. Practical or Premium?
Now it's time to consider which door material is suited best to your family, your lifestyle and your budget. uPVC and aluminium sliding doors are both low maintenance options, but that's where the similarities end. If you're simply looking for a practical, cost-effective solution to upgrade your patio door and match existing window frames, uPVC sliding patio doors should comfortably accommodate your needs. However, if your heart's set on the slimmest sightlines combined with the largest expanses of glass available, it's time to invest in alluring aluminium sliding doors.
Frequently asked questions about sliding glass doors
How do sliding glass doors work?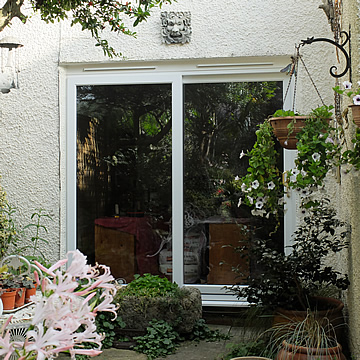 Exterior sliding glass doors usually feature one sliding panel and one fixed panel, allowing for the moving panel to glide over the anchored one. Sliding glass doors offer a smooth sliding action along a track positioned at the top and bottom of the doors, which sometimes feature rollers for an even smoother opening and closing action.
What is the best material for sliding glass doors?
As we've already mentioned, there are a number of benefits to both uPVC and aluminium sliding doors. Here's a helpful comparison table to help you make your final decision:
| | |
| --- | --- |
| Aluminium Sliding Glass Door Benefits | uPVC Sliding Glass Door Benefits |
| Can increase property value | Budget-friendly |
| Corrosion & fade resistant | Weather-resistant |
| Superior thermal break technology | Insulating |
| Complements all property types | Suited to newer properties |
| Enhanced security features | Secure |
| Long-lasting | Durable |
How much does it cost to put in a sliding glass door?
This all depends on your particular specifications; material, size, number of panes, glazing type, colour, etc. All of our sliding glass door installations are completely bespoke. Offering a great price, first time, every time, contact an Albany Windows expert today to get a free quote.
What's the standard size of a sliding glass door?
Of course, this will vary from home to home. But the standard size for a sliding glass door in Cheltenham and Gloucester is around 6 ft 8.7" in height and 5ft 8.7" wide.
How do I clean my sliding glass door tracks?
Sliding glass doors are incredibly low maintenance, although you must endeavour to keep the tracks free from dirt and grime to keep them operating smoothly. For regular maintenance, all you'll need is a vacuum, water, a nonabrasive cleaner, a wire brush/toothbrush and some paper towels. Simply vacuum up any loose dirt and debris, mix a cup of water with a small amount of the nonabrasive cleaner and scrub the tracks with the wire brush or a toothbrush. Dry the tracks with the paper towels and repeat the process on the other door track. This should be done once every few weeks to keep your sliding glass doors operating at their very best.
Are sliding doors cheaper than bifold doors?
Sliding glass doors generally work out slightly cheaper than bifold doors. However, this all depends on specific details such as material, size, number of panes, etc. Contact an Albany Windows expert today to get a free quote.
Sliding glass doors near me
If you're looking for stunning sliding glass doors to accentuate far-reaching Gloucester or Cheltenham views, visit our extensive showroom, book an appointment or get a free quote today.
Related topics:

Upgrade your back room with sliding patio doors