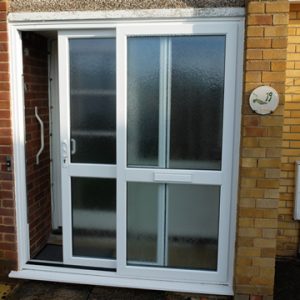 Let's be honest, us British like to make the most of our back gardens while we can. After all, there's nothing more annoying than a belated summer that finally rolls around and having no way to properly indulge in such beauty. Albany Windows just might have the solution with high performance uPVC and aluminium sliding patio doors.
Successfully engraining themselves as the UK's most popular choice of rear entrance door, sliding patio doors are a great way to maximise both the amount of light and space available within the back of your home. All at a wildly cost-effective price! With smooth sliding action and an exceedingly low threshold, there's no excuse to not upgrade your back room with sliding patio doors.
Lashings of natural light sure to brighten the mood of any room
Naturally being able to boast larger glass panes than many other back door styles, sliding patio doors have no problem bringing in a flood of natural light into the home. This feature is highly beneficial to homeowners who typically have trouble brightening up the back of their home, reducing potential energy bills and generally making your home much more inviting.
At Albany Windows, we offer all sliding patio door options with various configuration options to accommodate even the largest of apertures. More sliding panels simply means more light entry, meaning that your home is blessed with space, you can be sure that it will be sufficiently submerged in natural light to brighten the mood instantly!
The illusion of extra space that is always easy to access
Because our selection of patio doors always provides unimpeded views of the outside whether they are open or closed, the illusion of an extended space is successfully created. Much like mirrors, their large glass panels create the optical illusion of there being more space in a room than actually exists. No more do homeowners have to suffer from small kitchens or limited space, this product helps your home feel a bit larger and as a result, more comfortable!
Homeowners will enjoy knowing that because their glass panels slide effortlessly to the side on a track, this much needed extra space is always easy to access. What's more the doors do not require any swing space so it will never interfere with inside room, entryways or any nearby furniture.
Design options to perfectly match your home's existing aesthetic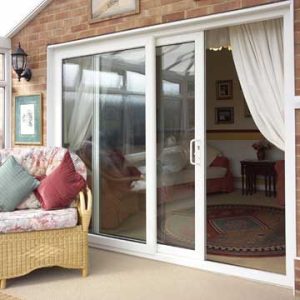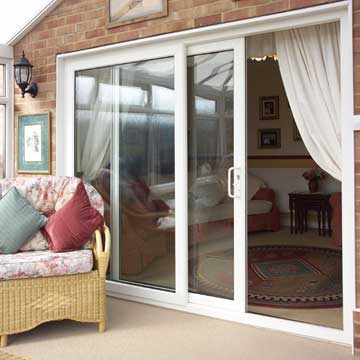 Our sliding patio doors are available in a range of distinctive panel, glazing and design options to ensure that your home is always blessed with a high performance back door that is wholly unique to your home. Whether you'd prefer your replacement doors in either uPVC or aluminium, Albany can provide them in 2 to 4 pane configurations, accommodate dual colouring on either side of the frame and can even supply them in scratch free coating.
The addition of sliding patio doors instantly helps add a sense of charm to any home, making them a desirable stylish choice for the modern homeowner as well as a very practical one!
Albany Windows: Premium supplier of patio doors
Albany has been providing the local homeowners of Gloucestershire with a range of high quality home improvement products for well over 15 years, sliding patio doors included. It's no surprise why this door option is so popular when being so cost-effective and providing many stylistic and practical benefits simultaneously. To find out more about how sliding patio doors can help enhance your home, call us on 01242 511384 or drop us a line here.