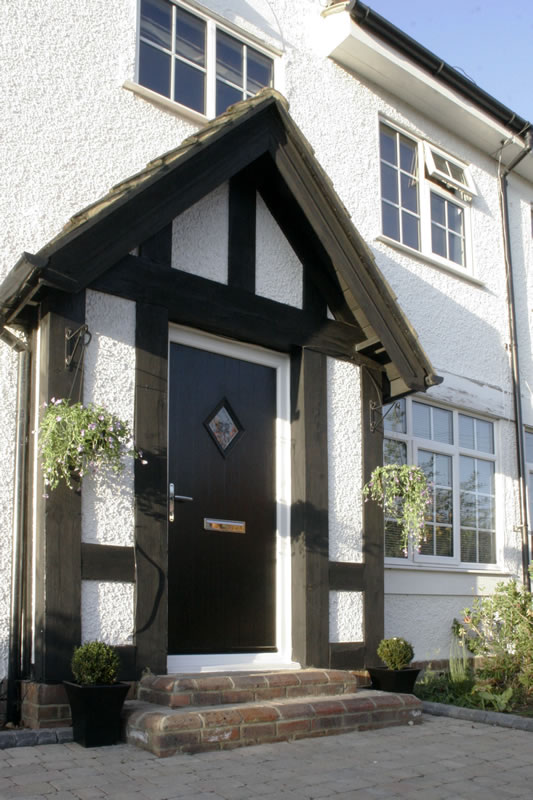 Shops are probably already gearing up for the Boxing Day sales, you've opened a few doors on your calendar (or your dog has) and you've had to invest in a de-scraper for your car. This can only mean one thing. Winter is here.
Amongst all the chocolate and dreams of snow, it's hard to find the time to worry about keeping your home warm. But with a composite door it's easy.
Retain heat with a composite door
It's easy to underestimate doors unless they reveal chocolate. Doors on your property just let you in and out of your property don't they? Wrong.
They can significantly help to reduce draughts and weatherproof your home, resulting in a warmer living environment and reduced heating bills. So no more worries about coming downstairs to an ice-box like hallway this Winter!
Composite doors (those that are made up of one or more material) generally combine the benefits of timber and uPVC. This results in naturally good insulation and strength from wood, and the ease of maintenance and cost-effectiveness from uPVC.
Year round energy performance
In Winter, it's doubtful that you are rushing to escape the warm confines of your home. Composite doors stop vital heat escaping too. The thermal benefits of timber and the modern design of uPVC means that far more heat is retained within the core of the door, helping to keep your hallway or living space insulated.
If you want a composite door with a stylish decorative glass panel, it's easy to maintain energy performance with different glazing options. Installed by reputable tradesmen, effectively sealed glazed panels can add warmth and style to your home.
Choose a reputable company to install your composite door
If you are based in Gloucester, Tewkesbury, Stroud or Cirencester and want a warm house this Winter, opt for a composite door from Albany Windows. Our range of composites are 17% more thermally efficient than timber doors and can incorporate toughened, laminated and low-e energy saving glass.
Not only are all of our doors secure and weatherproof (thanks to the modern materials, Yale locks and Glass Reinforced Plastic coatings), but they come in a range of 12 styles, with many finishing options – including decorative glass, bespoke handles and letterboxes.
So for reduced heating bills and an elegant update to your home's entrance, enquire about a composite door from Albany – our directors have a combined experience of over 70 years in the home improvement industry and we work hard to consistently offer quality products and installations.