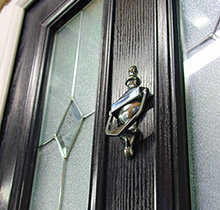 The most secure entrance door in the UK market today
Composite doors are quickly becoming the most preferred choice of entrance door on the market today. It's easy to see why with so many advantages such as; excellent thermal performance, no risk of warping or cracking and a thick door panel to ensure your home is always safe! Usually being made up of a mixture of stunning uPVC and functional timber – Composite doors from Albany are the complete entrance door solution.
Albany manufacture high quality composite doors that can easily meet all of your energy efficiency and security needs simultaneously. More and more British homeowners are recognising the advantages they have to offer, benefitting greatly from their high insulating foam core whilst never having to compromise on beauty or visually stunning aesthetics.
The basics of a composite door
Put simply, composite doors are made up from a variety of materials, including uPVC, wood, insulating foam and GRP (glass reinforced plastic). All of these combined elements come together to result in a door type that is very strong and secure. Unlike other single material doors on the market, composites are able to deliver higher thermal resistance, thanks in part to their legendary foam core.
The typical look of a composite door is intended to mimic the aesthetic of a traditional timber door, most often found in heritage or historical properties. Thanks to the plethora of materials used however, composite doors will never fade or require any maintenance over time. Simply wipe down with a damp cloth if it should ever get dirty – same as a uPVC door. Simple!
The pinnacle of security for regular peace of mind
Whichever door in your home you are wishing to replace, you should always consider investing in a composite door first to ensure that your home is always properly protected. The only real drawback can be if you're operating on a limited budget however, the benefits far outweigh the additional cost.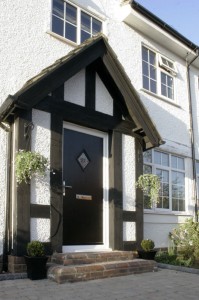 Benefits of a composite door at a glance:
Super strong
High security
Easy maintenance
Excellent thermal efficiency
35-year lifespan
Visual design that mimics traditional timber
Beautifully installed composite doors from Albany Windows
Albany Windows have been providing the people of Cheltenham, Tewkesbury and Cirencester with high quality home improvement products for well over 15 years meaning we are highly experienced in installing bespoke composite doors. If you want to try before you buy your new composite door, feel free to visit our showroom situated in Cheltenham!
For more information about how a composite door can help strengthen your household, don't hesitate to call us on 01242 544384 or contact us online.