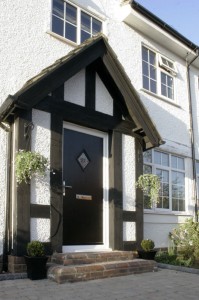 Here at Albany we offer front doors made from both uPVC and composite materials. But which type of door is better? We've come up with a handy comparison table so that you can work out which door is best for your home.
[supsystic-tables id="1″]
(Rating: 1 is poor, 5 is excellent)
1. Appearance: a draw!
Both uPVC doors and composite doors have a versatile appearance that makes them well suited to both traditional and modern style homes. This is why they're equals when it comes to appearance.
The overall aesthetic of both doors can be easily customised to meet your stylistic needs, making them particularly useful around the home. What's more, both uPVC door and composite doors are available in a huge range of colours and timber-effects. Customising your property has never been easier thanks to the versatile appearance of uPVC and composite doors.
2. Security: Composite door
Although our uPVC doors and composite doors utilise the same high performance, multi-point locking systems, when it comes to overall security the composite door edges ahead of the uPVC door due to the materials used in its construction.
With a high density foam core, a thick GRP (Glass Reinforced Plastic) outer shell and a solid frame and rebates, composite doors can withstand attack from even the most professional of intruders. Combine this with a complex multipoint locking system and you have an extremely formidable and strong door.
3. Energy efficiency: Composite doors
Energy efficiency is all about reducing how much energy your home uses in order to save money on your bills and help the environment. In terms of doors, an energy efficient product will keep warmth inside a home for longer, thus reducing how much energy you have to use overall to heat your property. This can save you significant amounts on the cost of your energy bills.
Both uPVC and composite doors provide excellent levels of thermal insulation, making them very energy efficient products.
4. Hardware options: Draw
The sheer amount of customisable hardware available for uPVC and composite doors means that the two once again draw.
Here at Albany for instance, we can provide a variety of different types of handles, hinges and locking systems so that you can create the perfect door for your home; regardless of whether it's a uPVC door or a composite door.
5. Easy maintenance: Draw
Conventional timber doors require a lot of maintenance to be kept looking and working well. Albany's range of uPVC and composite doors however, hardly need any!
Easy to clean, and not requiring any additional painting or varnishing, our uPVC and composite doors are perfect for homeowners who don't have the time and energy to be constantly fiddling around with them.
6. Choice of styles: Composite door
There's a variety of choice available when it comes to choosing uPVC and composite door styles. So much so that it's difficult to choose a winner when it comes to choosing which door is better in terms of styles on offer.
Composite doors edge slightly ahead because of the versatility of their design, that allows a broader variety of designs, glazing configurations and styles to be incorporated in the overall door.
7. Glazing options: Draw
At Albany we can offer a variety of glazing options so that you can create a door that is perfectly suited to your needs. We supply all of our uPVC doors and composite doors with high performance double glazing as standard. This ensures that your new door provides exceptional thermal insulation right from the start of it being installed.
8. Value for money: uPVC door
When it comes to finding a very affordable door that represents good value for money, uPVC doors come out on top. Whilst composite doors are good for homeowners working with a medium-sized budget, uPVC doors are perfect for those on a smaller budget. They are relatively inexpensive, provide reasonable security and provide good all-round performance.
Find out more about Albany's range of high performance uPVC doors and composite doors.