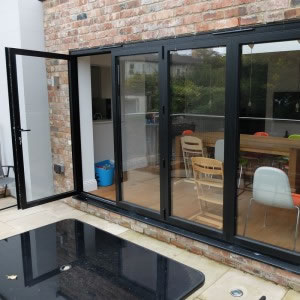 Summer is nearly upon on us, and many homeowners have been asking us how they can enhance their enjoyment of the season around their property. We've got the answer: by installing bi-fold doors!
Bi-folding doors: taking homeowners by storm
Bi-fold doors are one of the most popular home improvement products that we offer here at Albany.
Bi-folds, as you can probably guess from their name, operate on the principle of a pair of door panels that fold together. When mounted on tracks, and arranged with other pairs, bi-folds can be used to create a 'window wall' that lets in masses of natural light, and that can also be easily opened.
How bi-fold doors can transform your home for summer
Bi-folds can really help to transform how you think about your home in the warmer months. Here's a few of the benefits that they can provide your property in summer.
1. Bi-fold doors can completely open up your home to the outside
Thanks to their innovative design bi-fold doors can be used to completely open up a room to the outdoors. This can essentially let you extend your garden inside; perfect for entertaining in the warm summer evenings.
2. They're easy to use
If you're looking for a no-nonsense, easy to use door, a bi-fold is the perfect choice. Their sliding and folding opening action and their roller mounted track system means that the entire door is incredibly easy to open.
3. They're energy efficient
Unlike many other types of older sliding door, bi-folds are manufactured to be energy efficient. This means that their design, and glazing, is designed to keep heat in a home for longer, reducing the amount of energy you have to use to warm your home and saving you money on the cost of your energy bills.
4. They look amazing!
There is no denying that the slim sightlines, elegant design and large glazed panels of a bi-fold make it a thoroughly attractive door. Combine that with it's graceful opening action, and you have a door that can command truly stunning aesthetics. This makes it the perfect product to enhance the appearance of your home and get the neighbours talking!
Bi-fold door installers in Gloucestershire
If you're looking for a high quality bi-folding door to improve your home this summer, the Albany product range is the perfect place to look.