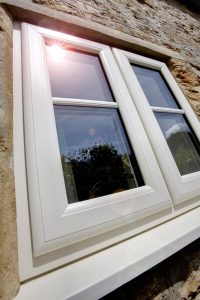 Casement windows are confidently considered as the most popular window style found in the UK today. With so many benefits for both the home and the homeowners, it's very easy to see why! Here are our top 10 benefits that casement windows from us have to offer:
1.Variety of design features
Casement windows have endless methods of customisation, always looking attractive in either uPVC or aluminium. The various design features available include: French, pushout, flat top and multiple grill configurations. If you wish to enhance the traditional features of your casement windows, astragal bars are also a must.
2.Highly energy efficient
All casement windows supplied by Albany Windows are A+ rated for energy efficiency as standard, more than meeting WER (Windows Energy Rating) requirements. Thanks to enhanced glazing and an effective window sash pressing against the frame on closing, air entry and leakage is further prevented to increase efficiency.
3.Easy to open and close
Thanks to the use of single-lever latches, casement windows are exceedingly easy to operate, opening and closing smoothly every time. Most models can be further fitted with automatic openers for increased ease of use also.
4.Excellent ventilation
Since traditional casement windows open outward, they have no trouble flooding any room or space with the desired amount of ventilation. Unlike double-hung windows which are closed on top, casement windows are open from top to bottom so it's never a struggles to feel cool.

5.Made to measure
All of our casement windows can be manufactured to accommodate any size or shape aperture you need to fill in your home. Through advanced extrusion and profile bending techniques, any style of home can incorporate casement windows.
6.Enhanced security
Casement windows from Albany are internally glazed to help keep potential intruders out, utilise market leading Yale locks and can incorporate various other hinges and locks for optimal security.
7.Slimline frames
Our aluminium casement windows in particular boast extremely slim sightlines which helps homeowners gain a wider view of the outside. Thanks to aluminium's increased strength, your casements are capable of holding larger panes of glass also to further enhance views.
8.Various glazing options
It's possible to add almost any glass design into your casement window frames, including bevelled designs and stained glass. They can also incorporate either double or triple glazing to further ensure that you are never left out in the cold.
9.Exceedingly low maintenance
Whether uPVC or aluminium, your casement windows will never require heavy amounts of cleaning, both simply requiring a wipe down should they ever become dusty or dirtied. Casement windows can also have a lifespan of roughly 30 years also, more than giving you your money's worth on investment.
10.Unlimited colours available
All of our casement windows can be customised to any colour you require, especially if you opt for aluminium, being available in a whole chart of limitless RAL colours. uPVC also allows for a great deal of personalisation also, with 19 solid colours or wood grain finishes available.
Albany Windows: The casement window specialists
Albany Windows have over 15 years' experience providing homeowners with high quality double glazed windows at affordable prices. Casement windows have remained the nation's most popular style for over 30 years, and now thanks to the advancements made today, Albany Windows feel confident that they can satisfy any desired requirement for your home.
For more information on casement windows or any other of our home improvement services and products call us on 01242 511384 or contact us online today!