Enhance Your Living Space: Winter Home Improvements
Winter may be drawing in, but don't let the chilly temperatures discourage you from completing those home improvement projects. Now is the perfect time to make a change to your home that will improve its efficiency over the colder months – especially as we are all spending so much more time in our homes now too. Our five winter home improvement ideas below will give you the inspiration you need to get started!
Upgrade your windows this winter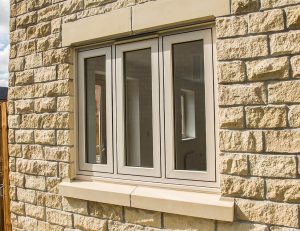 Upgrading your windows is an easy way to improve your home's insulation and prepare for winter. You can expect to improve your home's energy efficiency, thermal efficiency, aesthetics and value. We offer our range of windows in uPVC and aluminium frames because we know that every homeowner is different. This proactive approach gives you the freedom to make the best decision for your family's individual needs. Both materials look great on any style of home, featuring an extensive range of benefits including high energy efficiency and security.
All of our windows achieve an A+ BFRC rating for the ultimate energy efficiency. Our high-performance glazing helps to prevent heat from escaping from your home and keep draughts out, whilst reducing noise. At Albany, our windows could save you hundreds of pounds a year in heating bills whilst keeping your home at a comfortable temperature all year round. Read our comparison of aluminium and uPVC windows to find out more.
Secure any drafts to stay warm all winter
During the winter, any cold draught can cause your home to lose heat. Insulate your property by sealing cracks in floors, doors and skirting boards, hanging heavy curtains and using draught excluders to keep the heat in. You should also look at the areas where heat escapes the property. Consider purchasing keyhole and letterbox covers and if there are any other opportunities for air to escape, like through a cat flap for example, then look into ways of minimising the draught where you can.
Replace your doors ready for winter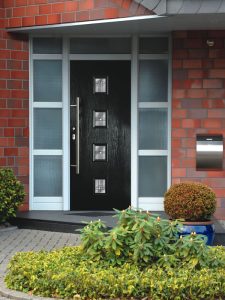 Why not consider replacing your front and/or back doors to give your home a makeover and improve its energy efficiency this winter? If you are looking to replace your front door, you could think about upgrading to a composite door. Robust, secure and thermally efficient, composite doors lead the market in door technology. A composite door makes an ideal front or back door for any style of property. More and more homeowners are recognising and feeling the benefits of a composite door, such as a low threshold for easy access and a high insulation foam core for increased thermal efficiency.
Composite doors from Albany feature a high-performance insulating core, installed within a naturally insulating uPVC frame. Our composite doors are 17% more thermally efficient than timber doors and help to reduce heat loss from your home.
Stay Comfortable Year-Round with Proper Home Insulation
Is your home leaving you hot and bothered or cold and shivering? Fluctuating indoor temperatures are often a sign your home needs more insulation. As a homeowner, one of the best investments you can make for consistent comfort is ensuring proper insulation installation and maintenance.
Insulation acts as a temperature barrier by slowing the transfer of heat between your home's interior and the external environment. Without adequate insulation, your home becomes vulnerable to outside temperatures. Heat naturally transfers from warmer to cooler areas. So in summer, heat from outdoors penetrates in, while indoor heat escapes out into the cold during winter. Proper insulation regulates this heat flow to maintain more consistent indoor temps.
An under-insulated home leads to uncomfortable hot and cold rooms, higher energy bills, and even moisture issues like mould. Checking your attic and basement are good places to start. If your insulation levels are low, new insulation can make a dramatic difference in livability and efficiency. Consult with a home energy auditor first to determine your home's needs.
When installed correctly, insulation keeps your home comfortably warm in winter and cool in summer for a steady indoor environment. Contact our team today to evaluate your insulation levels and ensure your home provides reliable comfort and performance all year long. Proper insulation is one of the smartest long-term investments you can make as a homeowner.
Improve your home this winter with Albany
Albany Windows have been offering high-quality products and expert customer service to homeowners throughout Gloucestershire for 20 years. For more information about our home improvement solutions call us for free on 0800 111 4621 or contact us online.
Winter Home Improvement Tips FAQs with Albany Windows
Welcome to our Winter Home Improvement FAQ! As the colder months approach, it's the perfect time to enhance your home's efficiency and comfort. Albany Windows brings you expert advice on common queries related to winter home improvements. Read on to discover how upgrading your windows, securing drafts, replacing doors, and adding insulation can make a significant difference. Have more questions? Contact us for a free quote and let Albany help transform your home.
How can upgrading my windows improve my home's efficiency during winter?
Upgrading your windows to Albany's uPVC or aluminium frames enhances insulation, energy efficiency, aesthetics, and home value. Our A+ BFRC-rated windows prevent heat loss, reduce noise, and can save you hundreds of pounds annually on heating bills.
What steps can I take to secure my home against drafts in winter?
To stay warm, seal cracks in floors, doors, and skirting boards. Use heavy curtains, and draught excluders, and consider covers for keyholes, letterboxes, and other potential escape points, such as cat flaps.
How does replacing doors contribute to winter preparation?
Consider upgrading to a composite door for improved energy efficiency. Albany's composite doors, with a high-performance insulating core and uPVC frame, are 17% more thermally efficient than timber doors, reducing heat loss.
Why should I add insulation to my home for extra warmth in winter?
Adding insulation improves comfort by regulating temperatures. A well-insulated home is more energy-efficient. Check your attic or basement for insulation needs to create a more comfortable living environment.
How long has Albany Windows been providing home improvement solutions?
Albany Windows has been offering high-quality products and expert customer service to homeowners in Gloucestershire for 20 years. Contact us at 0800 111 4621 or online for more information on our solutions.