Conservatories can add value to your home and create a brand-new living space, however, a conservatory is nothing without an efficient roof. This is why we understand the importance of deciding the type of conservatory roof that compliments your home and suits your lifestyle and individual needs best. We've put together some of the best benefits that come with updating your old conservatory roof to something more modern.
How do I know it's time to replace my conservatory roof?
Is your conservatory roof over 10 years old? Conservatory roofs today, whether tiled or glazed, offer significant performance enhancements compared to extensions installed over 10 years ago. All conservatory roofs in the UK had to be at least 75% constructed from glazed materials up to 2010, meaning that a lot of old conservatories were built with substandard polycarbonate, which has poor thermal efficiency, making them too hot in the summer and too cold in the winter. Fortunately, Building Regulations have now changed, so your conservatory roof material options have vastly grown.
Benefits of upgrading to a glazed conservatory roof
Upgrading to a glass conservatory roof increases the natural light that floods through the living space. Our conservatories are double glazed as standard using energy-saving solar glass, a superior glass that helps to maintain the temperature inside your home and eliminate draughts, cold spots, and condensation. With our SGG Planitherm Total+ low emissivity glass, you can expect U-values as impressively low as 1.4 W/m2K. To put that into perspective, U-values for double glazed units must be below 3.7 W/m²K.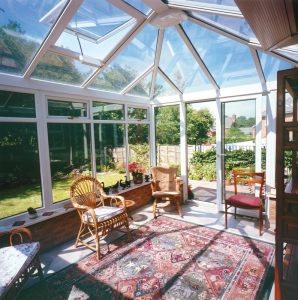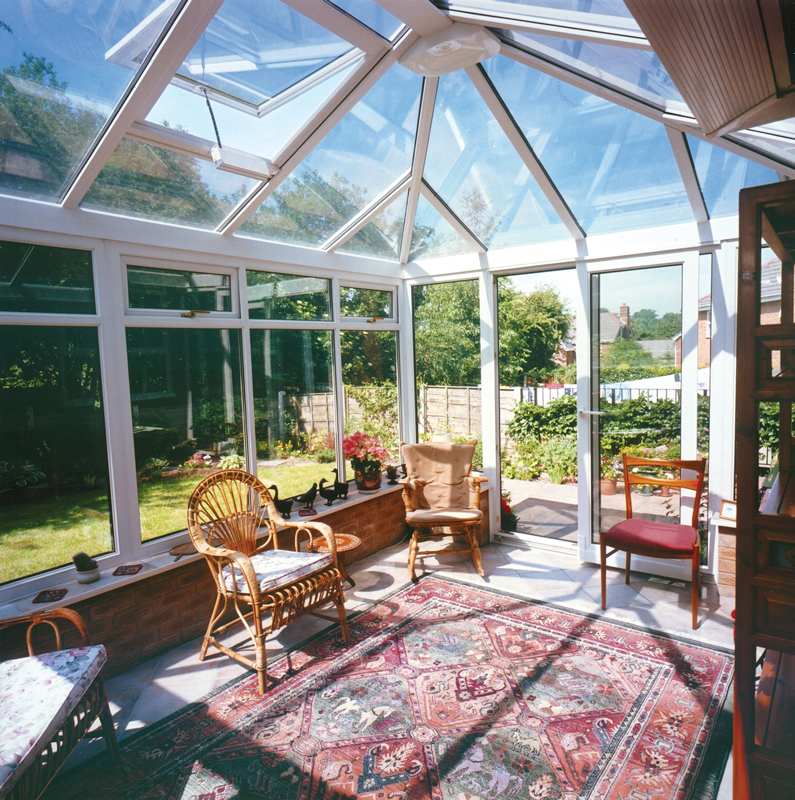 Benefits of our glazed conservatory roofs:
Solar glass roof for comfortable interior temperature
Argon gas filled units for reduced heat transfer
Weathertight installation
Toughened or laminated glass
Our glass conservatory roofs can also come with self-cleaning technology. SGG BIOCLEAN glass features a permanent transparent coating designed to keep new glazing cleaner for longer. Breaking down exterior organic dirt and grime by utilising the natural action of the sun (UV rays) and the rain (water), this ultra-low-maintenance self-cleaning glass saves precious time and energy that can be spent on more important things. Equally reducing maintenance & maintenance costs, our self-cleaning glass provides a crystal-clear view for longer. Ideal for windows, roof windows, bay windows, glass conservatories, roof and patio doors, and skylights
Take a look at all of our glass and glazing options here.
Benefits of upgrading to a tiled conservatory roof
Upgrading to a tiled conservatory roof improves privacy and creates a seamless transition between the house and the extension.  If your conservatory is past its best, or you want it to feel like a permanent part of your home, adding a tiled roof is an ideal solution. Perfect for new build conservatories as well as retrofits and orangeries. Gone are the days of a noisy conservatory when it rains, freezing in the winter, and boiling in the summer; enjoy a peaceful room with the perfect temperature all year round.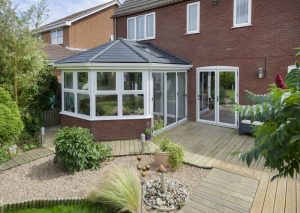 Benefits of our tiled conservatory roofs:
Insulated panels with a solid timber construction; eliminate the problem of cold bridging that aluminium structures suffer
A usable room all year round with superb insulation; U-values of around 0.15W/m2K achievable
An exceptionally strong, weatherproof, and durable roof system that will protect your conservatory from the elements
Enjoy a beautifully plastered interior that can have downlights and speakers integrated
Approved by the LABC and complies with Building Regulations
Replace your conservatory roof with Albany
Thinking of replacing your conservatory roof, or simply want to know more? Contact one of the team at Albany Windows today by calling us on 01242 511384 or contact us online and see how we can help you today.