In short, yes, you can. If the roof of your conservatory is built from polycarbonate or glass, it is possible to change it to a tiled conservatory roof. This is true in most cases, regardless of the conservatory's shape and size. This is because they are built with lightweight tiling, so in most cases, existing conservatory frames should provide them with enough support.
As one of Cheltenham & Gloucester's leading conservatory installation companies, we at Albany Windows have created this informative guide to answer all of the questions surrounding changing your current conservatory roof to a tiled roof.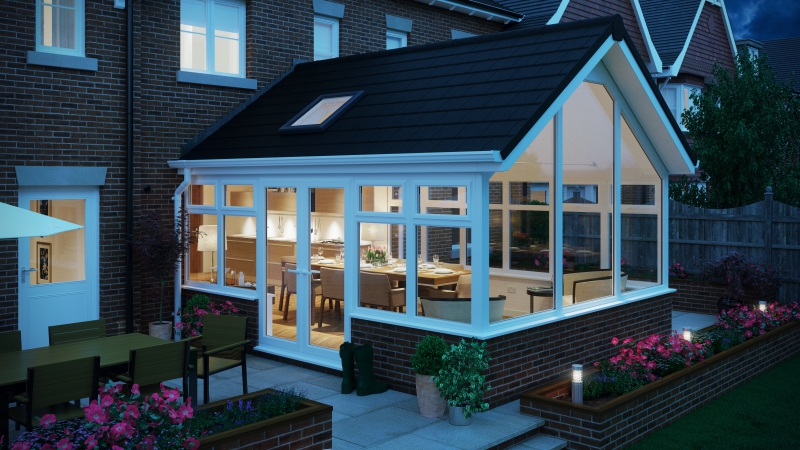 Will a tiled conservatory roof make my conservatory more efficient?
Almost certainly. This is especially true if your polycarbonate or glass conservatory roof is fairly old. One of the unique selling points of tiled conservatory roofs is that they have the best thermal performance out of any conservatory roofing solution.
The thermal performance is measured in U-values and the lower the U-value, the more heat they retain. Our tiled roofs can achieve U-values of around 0.15W/m2K. When you consider that a cavity wall has a U-value of around 0.3 W/m²k, it really puts it into perspective just how incredibly energy-efficient our tiled roofs are.
Does changing my conservatory roof to tiles require planning permission?
It's unlikely that planning permission will be required for you to change your conservatory's roof. However, your conservatory will still have to comply with building regulations. Our tiled roofs are approved by the LABC and comply with Building Regulations.
How much will a tiled conservatory roof cost?
Every replacement conservatory roof job we do is bespoke and costed on a project by project basis. This means we are unable to give you an exact amount in respect to tiled conservatory roof prices. The best way to get a cost is to talk to us and get a free, no-obligation, quote.
How can I customise my tiled conservatory roof?
The range of tile colours you can choose from will allow your new solid roof to blend in with the rest of your home. Choose from black, terracotta or dark brown. Included with the roof are highly durable uPVC fascias and guttering which will complement the rest of your conservatory and keep it protected from the elements. Roof vents are available to control ventilation in your conservatory and let natural light fill the room.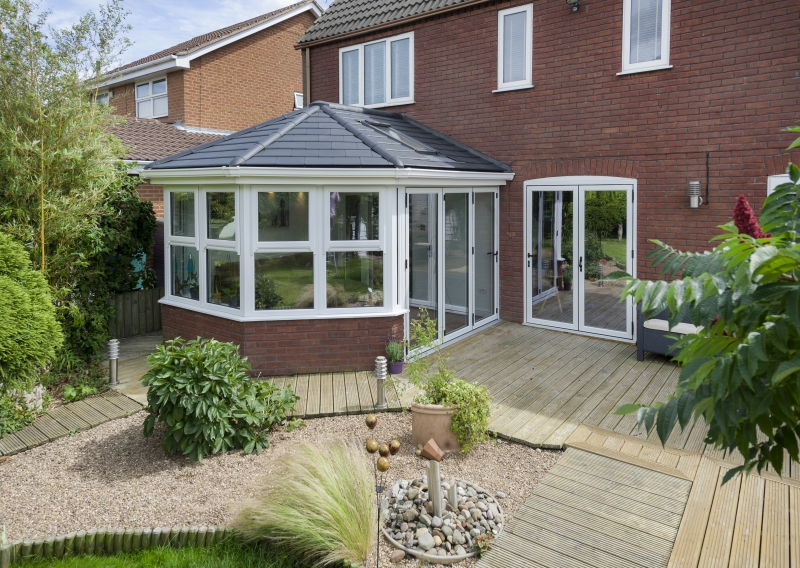 Do I need new windows and doors fitted along with a tiled conservatory roof?
Whilst it isn't necessary for new windows and doors to be fitted along with a tiled roof, if the windows and doors on your conservatory are fairly old, you might not get the full benefits of your new roof. This is because old windows and doors are unlikely to be very energy efficient, therefore limiting the tiled roof's insulation qualities.
When choosing us for tiled roof replacement, we will advise you on what option is best for your home.
Do tiled conservatory roofs come with a guarantee?
At Albany, every product we install comes with a 10-year guarantee backed by the GGFi (The Glass and Glazing Federation), so you're covered in the unlikely event that something goes wrong during that time.
How long will my solid conservatory roof last?
The tiles are expected to last for at least 50 years, plus they are virtually maintenance-free.
Can I customise the interior of a tiled conservatory roof?
Yes, you can. There is an internal plastered ceiling that can be fitted with integrated spotlights or downlights. Wires for any audio/visual equipment can also be concealed within the ceiling, creating a neat-looking conservatory.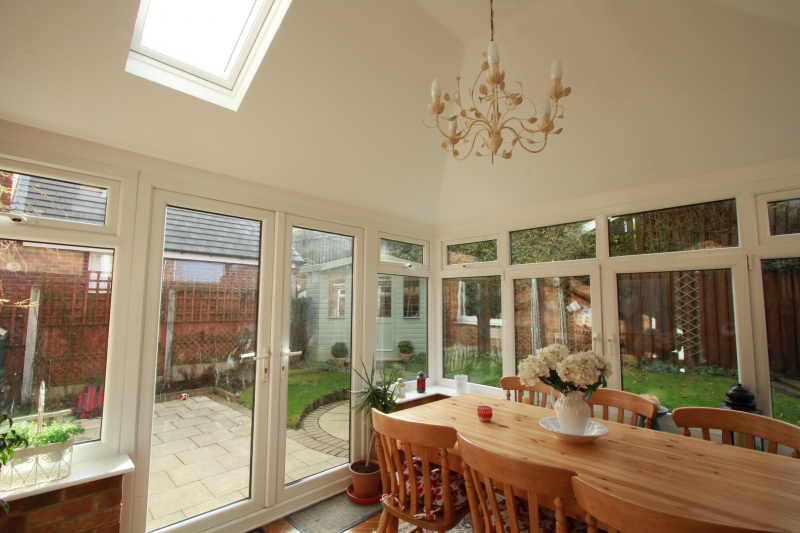 Replace your conservatory roof with tiles from Albany
Interested in replacing an outdated glass or polycarbonate roof with a high-performance tiled conservatory roof? Get in touch with us at Albany Windows. Give us a call on 01242 511384 or contact us online and see how we can help you today.