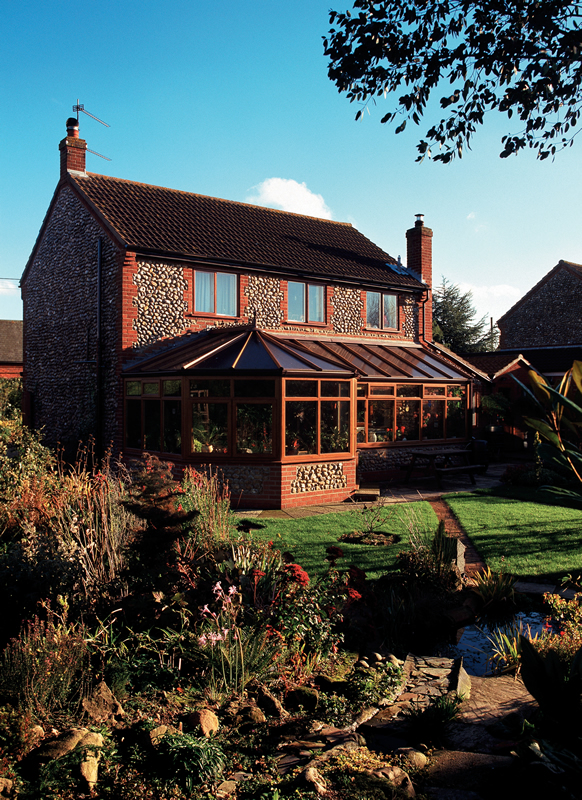 Confusion over whether your new conservatory in Cheltenham or Gloucester needs planning permission can cause a right headache. But it doesn't need to be this way. Let us give a rundown of everything you need to know about conservatory planning permission. If you choose to bypass planning permission, or the company you use does, you could pay a hefty fine. You could also have to demolish the conservatory. If you try to sell your home with an unapproved conservatory, this could make any sale extremely difficult too. Make sure you know the facts first.
Conservatory planning permission UK vs building regulations
Often, a traditional conservatory is considered 'permitted development'. This means it probably doesn't require planning permission but will need to follow building regulations. But what's the difference between the two? Both are granted by your local authority but concern different aspects of a development. Planning permission deals with the effect a new building could have on neighbours, the immediate area and the environment. For example, what the aesthetic value of a modern extension in a medieval village would be. Building regulations assess the safety and energy efficiency to ensure the extension etc. is suitable for use.
Do you need planning permission for a conservatory or is my conservatory considered permitted development?
As long as these rules are followed, your conservatory shouldn't need planning permission:
The conservatory can't cover more than 50% of your garden or grounds
It can't have balconies, verandas or raised platforms
The conservatory can be no higher than the highest part of your home's roof
It can't be higher than 4m and mustn't extend beyond your rear wall by more than 3m if semi-detached or 4m if detached
If you live in a conservation area or a listed building, different regulations will apply so contact your local authority
How to ensure your conservatory is exempt from building regulation control
Your conservatory must be separated from your house by external quality walls, windows or doors. Knocking through would require permission
The conservatory must cover less than 30 sq. m of floor space
To ensure your conservatory isn't an energy drain it needs an independent heating system
The glazing and electrical system must comply with current building regulations to ensure it's safe
Consent for planning permission from Gloucester City Council
For localised pre-application advice to submitting a planning application, you can find further information via Gloucester City Council's comprehensive planning development and planning applications portal. If you are ever unsure of anything surrounding planning permission or building regulations, we always advise contacting your local authority for further assistance.
Does a conservatory with a solid tiled roof need planning permission?
In the past, building regulations stated that conservatory extensions needed to have a certain amount of translucent roofing to be exempt from planning permissions. However, changes to building regulations in recent years typically mean that normal sized conservatories may not need planning permission to install a solid tiled roof.
Solid roof conservatories rising in popularity across Gloucestershire
Thanks to changes to building regulations and planning permission exemptions, it's hardly surprising that solid roof conservatories have steadily risen in popularity. Applied to new conservatory builds whilst transforming and refurbishing old conservatories just as easily, they're proactively allowing Cheltenham and Gloucester homeowners to appreciate their conservatory spaces all year round. Offering incredible heat retaining qualities, solid roof conservatories notably improve exterior aesthetics too as they feel much more like an extension to the home rather than an 'add-on.'
Do I need planning permission for windows and doors?
Planning permission for repairs, maintenance, minor improvements and new glazed units for windows and doors generally fall within your permitted development rights, therefore you don't usually need to apply for planning permission to carry out the work. However, different rules may apply if your home is located in a conservation area, has an Article 4 Direction imposed on it and/or is a listed building. Conservation areas are in place to protect the special architectural and historic interest of a place, where special control 'Article 4 Directions' restrict renovations that may damage the unique and distinctive character of an area. Each local authority assigns these, so contact your local council to find out whether your improvement plans could be affected by any such restrictions.
South Gloucestershire Council Planning Portal
Gloucester City Council Planning Portal
Gloucestershire County Council Planning Portal
With a combined experience of more than 70 years in the local glazing industry, please contact us for further information and advice regarding building regulations and planning permissions – our experienced and knowledgeable team of professionals will be more than happy to help.
Choose a conservatory specialist
As Which? Trusted Traders, you can rely on us to ensure that you have an efficient and stylish space. We'll take care of any permissions on your behalf, so you have nothing to worry about. Our team are all professionals and can offer expert advice on anything from thermal performance to colour options. Our conservatory range is perfect for any style home and any use. From a new dining room to a children's playroom, our conservatories will fill your home with light and space. Get in touch today if you'd like any more information.