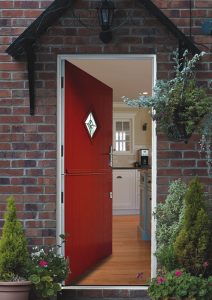 Homeowners looking for cost-effective ways to swiftly spruce up their Gloucester home, should really consider the effect a colourful front door. It may sound too good to be true, but a simple renovation such as a new front door can really boost the curb appeal of any Gloucester home. Our charming composite door range truly complement all South West homes – let's explain how and why.
Grey Composite Doors
Over the years, grey has gradually become the 'new magnolia' of home décor, not forgetting front doors. More and more homeowners are opting for grey over more vibrant colours, effectively offering an earthy neutral background base that brings out bold accent colours and accessories. Grey composite doors have also risen in popularity, offering a range of hard-wearing, sleek & classy grey undertones. From premium Anthracite Grey to luxurious French Grey, the 'Fifteen Shades of Grey' range suits both modern and traditional properties alike.
Contemporary Front Doors
Composite doors allow Gloucester homeowners to make a 'grand entrance', notably strengthening the stunning good looks of contemporary homes in particular. Leading the market in advanced door technology, this includes the ability to accommodate low thresholds for user-friendly access alongside exceptional thermal efficiency via a high insulation foam core. High security locks and frame, fitted as standard, provide exceptional safeguarding standards that the average front door can never live up to.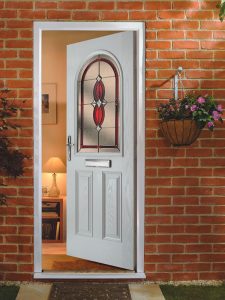 Colours Available
With 12 gorgeous door style ranges and thousands of design combinations, we also offer an unbeatable range of dynamic coloured composite doors with matching glazing styles to choose from. With an array of colour palettes to browse through, this includes a vintage Heritage range, bold and bright Gemstone tones and 'on-trend' pastel shades from the modern Miami Art Deco collection. From popular 'Painswick' to eclectic 'Rich Aubergine' and classic woodgrain foils such as Irish Oak and Walnut, Gloucester homeowners are truly spoilt for choice!
Composite Back Doors
Composite doors aren't generally taken into consideration for back door replacements, which is a real shame as they make ideal rear doors. Available with matching side panels and/or designed in the attractive composite stable door style, composite back doors provide the ultimate safeguard for safety conscious homeowners in Gloucestershire.
Related to this post: 3 reasons to invest in a composite door for your Gloucester home
Upgrade your home security with an impenetrable composite door
Summer is the ideal time of year for opportunist burglars to target your home, whilst you're out soaking up the sun. For the ultimate peace of mind, get in touch with one of the Albany Windows team today to discuss your home security options further.