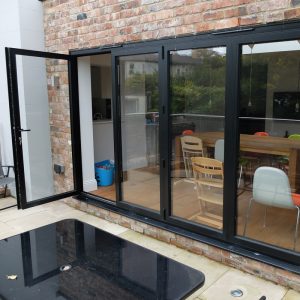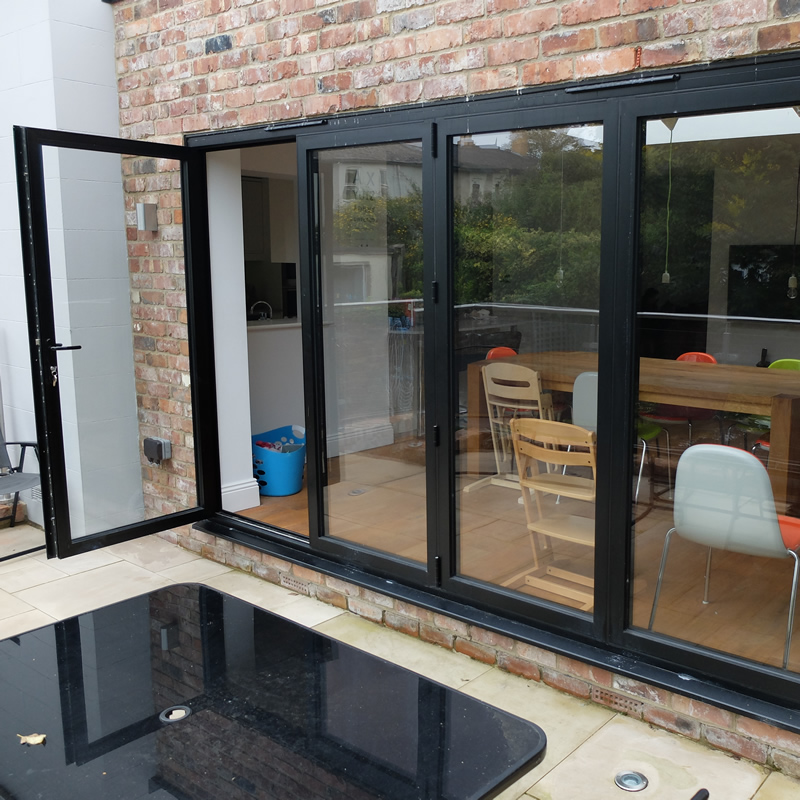 With such a diverse mix of companies offering different home improvement products in Cheltenham, Gloucester and right across the South West, it can become confusing how much it actually costs to install a bifold door. Bifold doors combine cutting edge technology, architectural expertise and engaging aesthetics that offer sophisticated sliding and folding bi-fold patio doors. Creating a smooth transition between rooms or outside spaces in both domestic and commercial settings, we're not surprised you're drawn to this beautiful home improvement.
So, before you wade into the unknown let's explain the range of different factors that can affect the price of bi-fold patio doors. No need to thank us, simply carry on reading!
How much do bifold patio doors cost?
The main elements that can affect the price of bifold door installation are the materials used for their frames, the number of door leaves required and extras such as integrated blinds. With this in mind, deciding on the best bifold door design for your household shouldn't solely be calculated on cost. However, we understand that this isn't always possible if a strict budget is being followed. If this is the case, you may need to rethink some aspects of your bi-folding door project; but, it's important to bear in mind that 'you get what you pay' for and sometimes to save money you must initially invest.
Frame Materials
uPVC is the most affordable bi-folding door frame material around. Able to create both a traditional or modern feel to any home, woodgrain effects can also be utilised with uPVC bifold frames for an authentic and affluent twist that isn't generally associated with uPVC. As low maintenance as they come, these slimline uPVC frames combined with respectable thermal efficient qualities are the ideal choice for South West homeowners on a budget. For complete peace of mind, avoid poor quality uPVC frames, that can potentially twist or warp through temperature fluctuations, by using a trusted installer in your area.
Related to this post: Looking for new upvc windows in Gloucester? 3 reasons why we are one of the local favourite installers
Aluminium is a good looking bifold door material, that's ideal for supporting the large expanses of glass that stunning bi-folds are renowned for. Aiding more glass on thinner frames, this sophisticated material allows for less framework which means more light can enter the space whilst eliminating impaired views. Their thermally broken profiles offer reliable energy efficiency all year round, proactively combined with low-maintenance anti-rusting, anti-twisting and anti-warping qualities. With so many benefits to purchasing aluminium bifold doors, its understandable that they achieve a higher premium for higher expectations.
Depending on your choice of threshold option (rebated for weatherproofing or a low threshold for easier access), this could make a difference to the price of your aluminium bi-folds.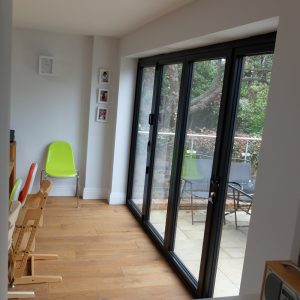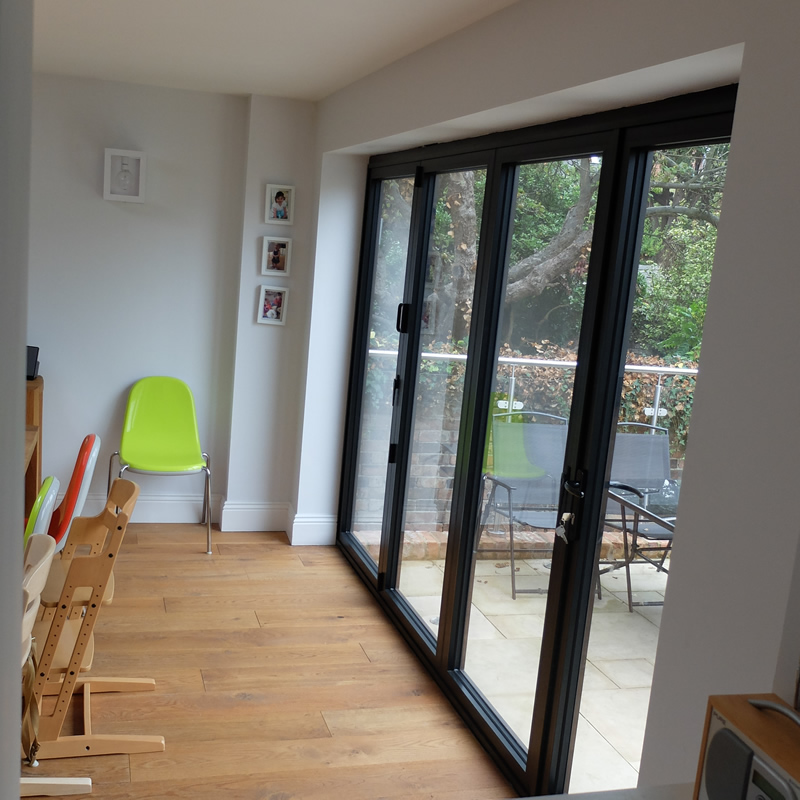 Design
The number of stackable door leaves required is likely to affect the price of your bifold door installation too. Offering 90% open space with a choice of 2 to 7 panes, our range of bifold door-sets perform equally as well as traditional patio doors, in kitchens, living rooms, conservatories and more.
The inclusion of a standard or double door, providing further ease of access, or a 'hidden pocket version' where the panels cleverly insert into the wall, opening up the space even further, can affect the price of your bi-fold doors. The type of hardware chosen for your bi-folds can also make a difference to the final price.
Related to this post: How to choose the right bi-fold doors for your home
Extras
To create the perfect finish and truly make your new bi-folds your own, may also affect the final outlay. Compelling extras include:
Toughened glazing
Lock mechanism upgrades
Finish upgrades, e.g. an additional aluminium frame coating that can withstand highly corrosive salt water conditions or high-quality timber effect coatings for uPVC.
Anything else?
As we've previously said, with anything in life 'you get what you pay for'. Therefore, it's important to grasp that if you are employing the best installers who can provide the highest quality bifold doors; you will be charged accordingly. So, think about how much the following could add on entwined with the invaluable peace of mind trusted & expert installers bring your family and adjust your calculations appropriately;
The installers' time, energy, skill set and expenses
Product and insurance backed guarantees
Product accreditations
By taking these valid points into consideration, not only can you save money through reduced energy costs and increased enjoyment of your home, you should also acknowledge the opportunity of moving in the future and how choices made now can genuinely affect your homes' value & curb appeal further down the line.
Related to this post: Top 10 ideas and tips for your bi-fold doors this summer