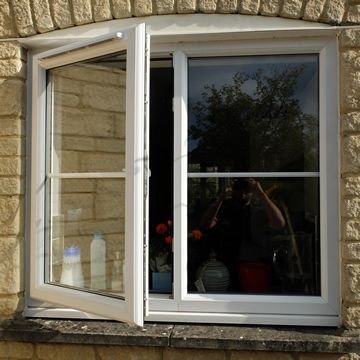 Two of the more popular window styles available, casement windows and sash windows share many similarities in terms of their designs and functionality.
However, they also have a few differences that can potentially make a difference when it comes to Cheltenham homeowners deciding on one or the other.
What is a casement window?
A casement window is a very versatile option and has been a staple in UK homes for decades. There are many reasons as to why that is the case.
A casement window will typically be hinged at the side of the frame and be fitted into either a single or double panel.
Casement windows can also be top hung and be hinged at the apex. They are also available in a range of materials from the popular uPVC to aluminium and timber.
What is a sash window?
Sash windows are a traditional option that gained popularity during the Georgian era and continued well into the 20th century. They have remained a strong option even in the modern day, with advancements in technology and tweaks in designs. Such changes include the modern switch to uPVC materials being used more readily in the designs instead of timber.
Different openings
With each window comes a different opening method. Casement windows will generally open outwards and are simple to open and close thanks to their side-hinged design.
Sash windows have the advantage of being able to open wider, which is particularly useful in case of emergency. Their opening is also simple to maximise, as it will open fully whether it slides up or down.
Visual appearances
Given their traditional aesthetics, sash windows are ideal for homes that are based in conservation areas.
There are plenty such properties within Gloucestershire and the Cotswolds that sash windows can certainly help to enhance in a classic but subtle way.
Casement windows, in particular those made from aluminium, can benefit from a slimmer design that can in turn provide a boost of natural light.
Security features and energy efficiency
Casement windows are one of the best window styles for what they offer when it comes to sustainability, ventilation and draught-proofing. They are sealed tightly when closed and are typically well insulated by virtue of their design.
Similarly, the tight seal on casement windows lends itself to a secure base, making them naturally difficult to force open. That does not mean, however, that sash windows pale in comparison.
Our sash windows meet the highest security standards, with a range of features such as locks and tilt restrictors that are available to increase the security of the windows.
Variety of windows for all types of homes throughout Cheltenham and Gloucestershire
At Albany Windows, we install a wide range of windows for homes in Cheltenham and throughout Gloucestershire. From the aforementioned casement windows and sash windows, we also install tilt and turn windows and Origin aluminium windows.
As well as windows, we also offer a variety of doors, including market-leading composite doors.
To get a closer look at our products, pop on down to our Cheltenham showroom. Contact us today on 01242 511384 to discuss your next home improvement project with us or get a free online quote.